After the closure of two scene-setting bars in Singapore, the DRiNK columnist ponders the recipe for long-term success for your bar.
In these boom times for the bar industry around the world, we often hear people saying, "Have you heard of that new bar opening?"
In our young industry, there's constant news about new openings and business expansions. There seems to be no end in the insatiable thirst for cocktail bars, and no short supply of people with the money and hustle to open one. This past month, however, conversations in Singapore took a different tone: "Have you heard of The Cufflink Club and The Library closing?"
Sure, a handful of bars have closed shop in the past couple of years, but the news of Cufflink Club and The Library shuttering hit a little closer to home for me. Both venues opened in 2012, the same year as my first venue Jigger & Pony, and both have been successful pioneers of Singapore's roaring scene. The news made me feel very aware of our own mortality. Does every bar have an expiry date?
If you are asking the same question, here is my blueprint to position your bar as best as possible for long-term success (because, like I've said before, I like visualising problems through graphs):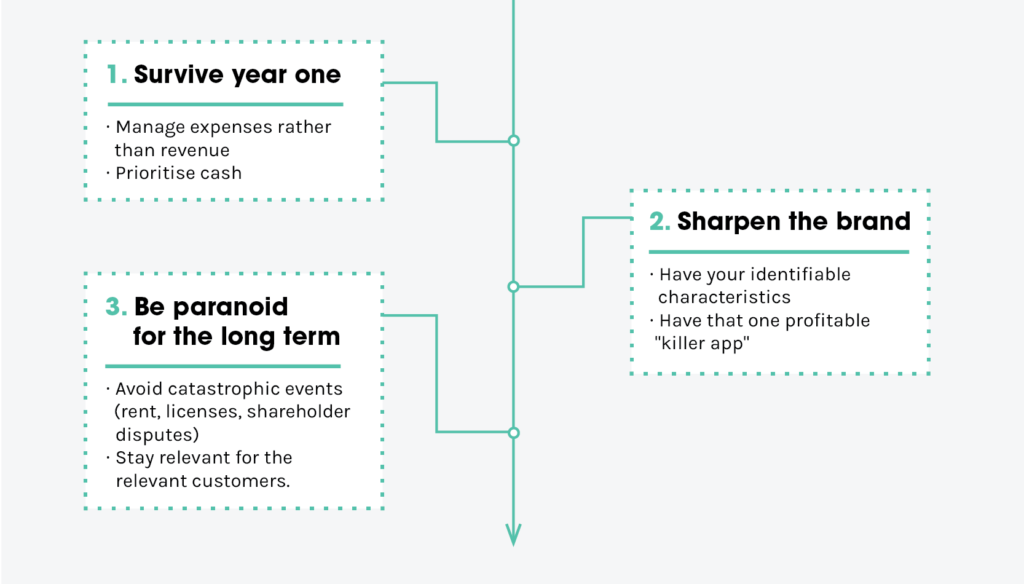 1 The first year for a bar is fueled with optimism. We dream of a polished hardwood bar counter, of having the best bar team ever, and of changing how customers perceive cocktails once and for all. The idealists among us dream of having the richest compensation model for passionate teammates, and of top-of-the-line equipment to unleash the ambitions of your bar team.
Well folks, the first year is also the one most filled with uncertainty. The truth is, you cannot control how many people will come through your door and how much they spend. You can, most definitely, control how much you spend to open the bar and how much you spend on salaries. Cash flow is always king for a business, and never is it more important than that first year in business. See a bar that closes before it hits the first birthday, and it's almost certainly due to a shortfall in cash to help it stay afloat. So, make sure you stay prudent with your expenses, and don't spend too much time worrying about revenue. I can assure that if your first year's problem is the lack of ideal equipment and staff to handle the larger than expected business, that you will have the chance to remedy that issue.
2 With the basic survival equation taken care of, it is now time to sharpen what your brand is all about. To be consistently differentiated against other bars, you need to have characteristics that guests strongly associate with your brand. An excellent example of this is PDT in New York – any mention of PDT is always followed by mentions of the phone booth entrance, Crif dogs, taxidermy and the Benton Old Fashioned. At Jigger & Pony, we attract large groups of guests who associate the brand with our punch bowls, solid wood communal table and those spicy tapioca chips.
Ask yourself: if your bar were to do a pop-up halfway across the world, what are the must-have features that you'll bring along with you? If you can't get consistent answers from your team and core customers, then you'll need to iterate further.
Importantly, these defining characteristics have to be economically beneficial to count as "killer apps". Our punch bowls are highly profitable because it takes our bartenders less time to make them for a group of customers, and the spend per customer often ends up being higher than when each of them orders a different drink.
3 When you have points 1 and 2 in the bag, you are likely to be successful for a number of years. Now, for the sustained success and hall-of-famer status, I borrow a phrase from Intel's legendary CEO: only the paranoids survive. Start imagining all the bad things that can be catastrophic to the bar's business, and as best as you can, formulate a backup plan for those situations.
One common such event is lease renewal time, when the landlord decides to drastically increase the asking rent. While luck (having a benevolent landlord, or good timing with the ebbs and flows of the real estate market) plays a big role, being paranoid of this event also allows you to prepare well beforehand. You can build a good relationship with your landlord before the lease expires, factor in a higher rental rate than you currently enjoy for your business, or build the brand such that a relocation to a new address would retain the business.
Another 'extinction-event' that happens more frequently than most people would like to believe is a bust-up amongst shareholders. Ideal business partners may change over time and when a lot of money is involved. Before that happens, it would be best to put on paper in a Shareholders Agreement, the mechanism to handle disputes and exits.
Finally, be paranoid about your customers' change in taste. We are living in the new golden age of cocktails, but golden ages do eventually come to an end. When that happens, we need to be ahead of the curve and change with the times.
So there you have it – a blueprint for long-term success. May the odds be ever in your favour!
---
Indra Kantono is the co-owner of The Jigger & Pony Group of bars and restaurants, with venues Jigger & Pony, Sugarhall, Humpback, Flagship and Gibson.
Are you bar operator with an interesting insight on running a business to share? Speak to us at editor@drinkmagazine.asia.