Celebrate fried chicken day with a matching drink. By Jonathan White.
Everyone loves fried chicken and everyone knows it goes great with beer – this includes everyone in South Korea, where its known as chi-maek, and the many millions of Chinese that watched Korean drama My Love From The Star (来自星星的你), which accounted for an uptick in fried chicken sales in China despite the bird flu epidemic at the time. Yeah, everyone loves fried chicken, and these days you can find KFC (Korean fried chicken) at microbreweries across the globe.
But it's not only good with beer. Fried chicken goes perfectly well with cocktails as the success of London chain Chick N Sours or the fact that Austin chicken royalty Lucy's Fried Chicken introduced a craft cocktail menu. Or that the brains behind Candelaria in Paris opened Korean fried chicken and cocktail joint Hero for the discerning Parisien about town has also proved.
We wanted in on the fried chicken and cocktail love (and to also to steal in on the USA's National Fried Chicken Day on July 6) so we went to see Mack Ross at Tour in Shanghai. The Canadian cocktail creator has long been pairing food and drink and it so happened that he had a fried chicken cocktail that has become a bit of a cult favourite – even if that might be more down to the bird than the booze.
"I could sell water and people would say it is the best cocktail ever if it came with fried chicken," he tells us. "I could tell them: 'You know there's no alcohol in that?' and they'd be like, 'Don't care. Chicken.'"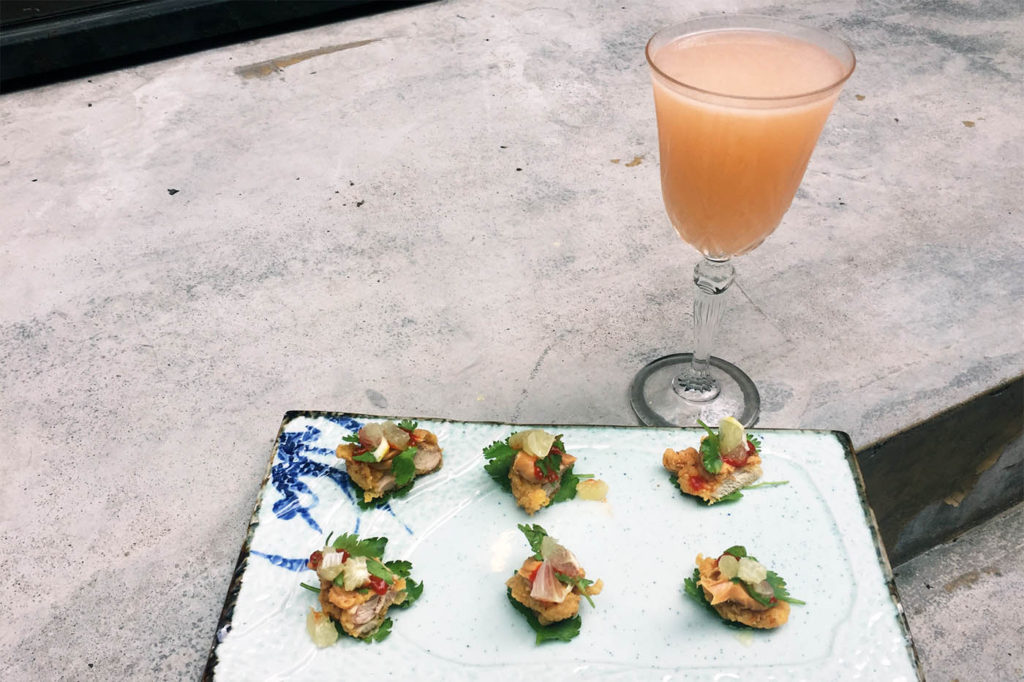 The drink doesn't have a permanent name right now or a permanent place on the menu but if you ask Mack for "The Mexican Vacation" on a Friday or Saturday night, he'll know what you mean.
Recipe (Click to view)
The Mexican Vacation by Mack Ross
So what's the takeaway? Customers of all kinds love fried chicken and it pairs well with cocktails – and we think it's a real clucking shame that there are not enough of them in this world. If you want some more inspiration then watch the folks at Sobelmans in Milwaukee, Wisconsin make their Bloody Beast Bloody Mary – advertised on the menu as "Feeling wild? Add a whole fried chicken to your beast! $50 – that'll serve five to six peckish diners.
---
Tour, United Valley, 462 Changle Lu, Shanghai, +86 21 6075 5821.