While most brewing in Singapore is a male sport, the city-state's beer-making flag is being flown high elsewhere at one of the world's top breweries, by a lady from Singapore, born and bred. Natasha Hong speaks to Lan-Xin foo, assistant brewer at Warpigs, the Mikkeller and Three Floyds collaboration brewpub in Copenhagen.
WHAT GOT YOU STARTED?
I graduated in food science in the United States, and went to work in the industry. I liked the lab setting, and there's a lot of things I love about science, but engineering food to a degree wasn't my thing. Four years later, I quit my job, sold everything I had and went backpacking to Argentina and Chile and did the World Wide Opportunities on Organic Farms program.
At some point I felt inspired to learn how to distil gin – sometime in 2008. A friend found out and was like, "Hey, I have a craft brewer friend here in Vancouver, and he welded together his own distilling column. If you want, you can come here and learn how to distil from him." I moved over for a two-month internship with James Walton at Storm Brewing. It's the oldest craft brewery in Vancouver and he started in 1994. Brewing was his bread and butter, and the distilling was a side hobby – so we did that once or twice – but I watched him brew a lot. His brewery was inspired by a British style, but it was simple and strangely romantic – I kind of just fell in love with the process, the smells and how he made beer. Then I realised that hey, I actually think I enjoy brewing more because, while distilling is also fun, it seems a little more refined and less rustic in a way.
After Vancouver in 2010, I went home and wanted to start homebrewing. I met Raymond Lee, owner of Singaporean homebrew supplies store iBrew, and worked with him while I was still trying to figure out what to do.
HOW DID YOU MAKE THE TRANSITION TO PROFESSIONAL BREWER?
After working with Raymond for a year, maybe a year and a half, I was like, you know, I really, really enjoy this. I knew I could learn through experience, but I felt like I wanted to go to school for this. I decided on a seven-month course at the Versuchs und Lehranstalt fur Brauerei (Research and Teaching Institute for Brewing) in Berlin. I thought Berlin would be a good city to live in as well. I grew to really love it, but my girlfriend and I came up to Copenhagen for a long weekend in 2012, and she brought me to the Mikkeller Bar in Viktoriagade – it was love at first sight. It's a beautiful bar, they had great beers on, and I was like, I have to explore this.
I followed Mikkeller on Facebook, and I saw they were throwing this beer festival – the Copenhagen Beer Celebration – for the first time and they were looking for volunteers. I was like, aww shit, I gotta come and volunteer. I skipped a day of school just to help out, and that's when I met Jacob Alsing, Mikkeller's operations manager. After the festival, I went back to Berlin, but after graduating, my partner wanted to move back to Copenhagen, and it made sense, because I also wanted to see if I could find a job within the Mikkeller company.
So we moved to Copenhagen, and by luck, Mikkeller and Friends [Mikkeller's second tap room in the city] was opening, and they needed lots of people to work. I started, and worked there until September 2014, and around that time, I sent Jacob an email saying, "I know Warpigs is opening, and if there's any chance of me moving there, I'd like to be considered."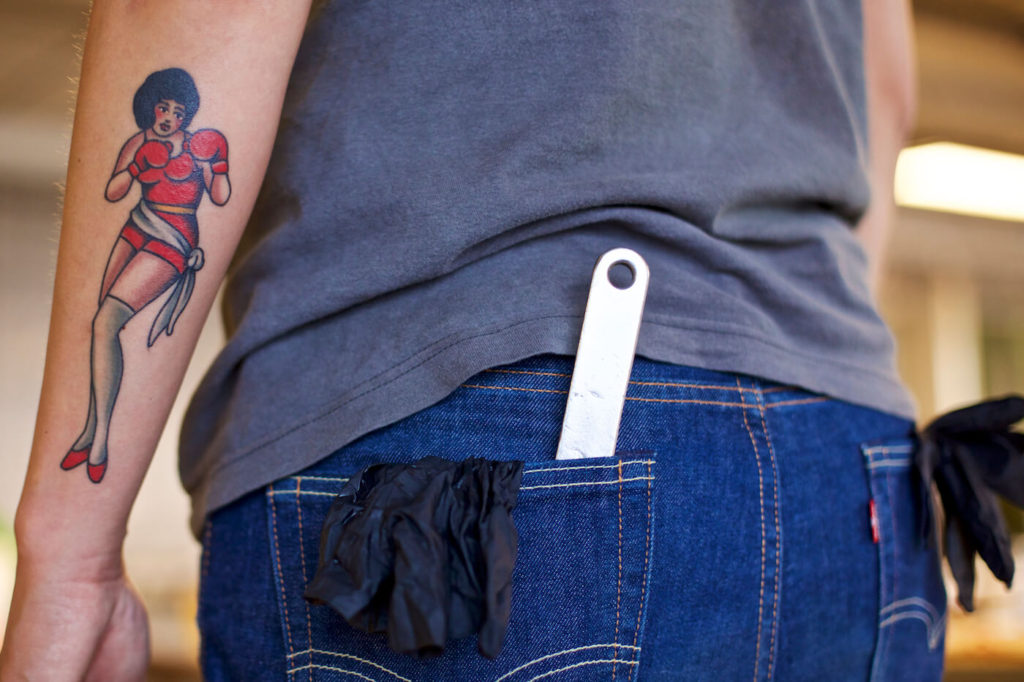 BUT SOMETHING GOT YOU ON THEIR RADAR BEFORE YOU MOVED.
Hah, yeah. I started homebrewing in Copenhagen again for a friend who had a catering company. He said, "Hey, if you can brew, why don't you homebrew a Christmas beer for me to give to my clients?" I brewed a brown ale with Christmas-ish spices, and around that time, Mikkel Borg-Bjergso [Mikkeller's co-founder] announced a staff-wide homebrewing competition. I used the same set up to brew, and came up with a sessionable beer, which I like to brew. I thought I'd make a more interesting version of a cream ale, because the style's very misunderstood. Then I added raspberries and added oak chips to the fermenter to mimic as if the beer was barrel aged. Mikkel thought it was good, so I won the competition. He subsequently bottled a batch of the Mikkeller/Lan-Xin Raspberries & Cream for sale, and we recently brewed a big batch of it here at Warpigs.
SO WAS WORKING AT THE BAR JUST A STEPPING STONE?
Not really. I was pretty happy because I was working for Mikkeller, and it helped me refine my palate. I would have been able to do it with a course or something, or maybe take five years to go through all the beers that I got to try then. It was quite a luxurious learning process, because you are exposed to so many different kinds of beers, and to be able to try sips of things on a whim to train the palate. Sometimes, on a slow night, a bartender would get blind tasters for another one, and they'd have to guess what it was.
DID YOU EVER FEEL LIKE LEAVING THE BAR?
Well, the hours at the bar, of course, were not the greatest – I was getting tired of closing up at two or three in the morning. If I hadn't gotten the brewing job at Mikkeller, I was also considering starting something on my own. I just didn't know if it was going to be in Copenhagen or in Singapore. I think my dad really wants me to move home and start in Singapore. I don't think I'm ready for that, but it'll be great to do that some time in the future. But right now, I'm learning a lot here, and I don't have to pay for it out of my own pocket. It's great. I can't complain. But of course, at some point, Singapore's always at the back of my mind.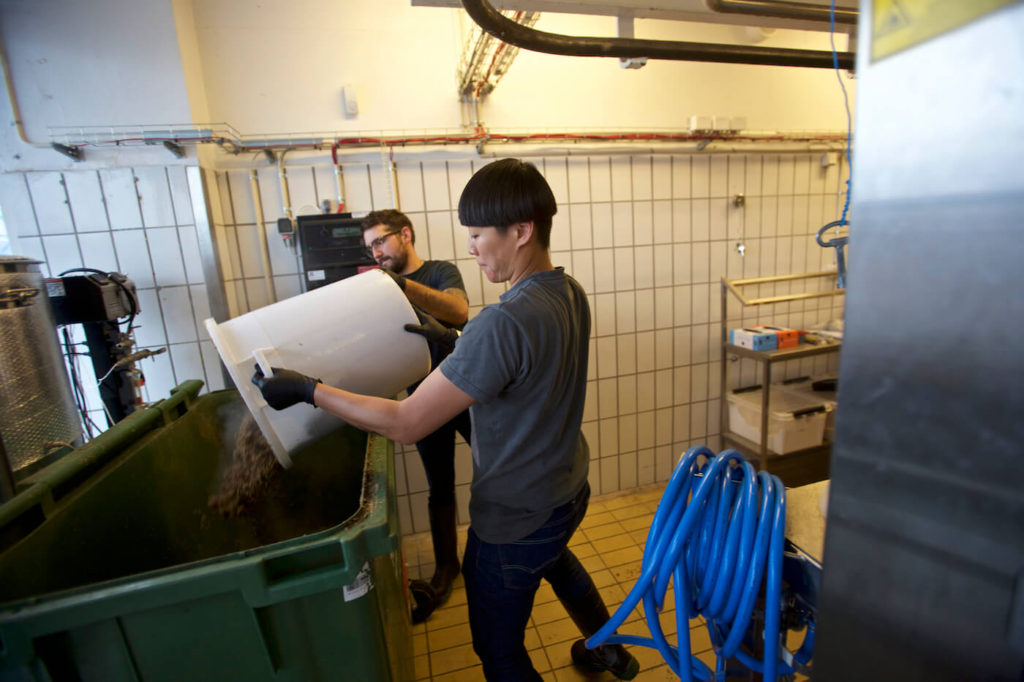 WHAT'S A DAY IN YOUR LIFE AS A WARPIGS BREWER?
Right now, I'm the assistant brewer, with Kyle [Wolak, the head brewer], and we're training an Australian guy Duff Wallace to brew with us. When we first started, Kyle and I were here seven days of the week, everyday. We knew we had to hire a third person, so we're training him to brew as well. Besides brewing, there's packaging – kegging and working our bottling line – and barrel ageing stuff. We have a room in our basement where Mikkel's managed to collect a whole bunch of ex- bourbon, sherry and wine barrels, and Mikkel's recently opened a barrel warehouse by the water in Refshaleoen island, where Restaurant Amass is. Barrel ageing is intensive work when you have to put the beers in, and take it out of a barrel. I was in charge of filling 3,000 litre and 3,500 litre foeders with experimental sour beers that came up from De Proef because no one else really has the technical knowledge to fill it. I'm also quite a fanatical cleaner, so I think it's also a pretty important part of the process. It's funny because someone asked us what we did at work, and Kyle was like, 'We clean.' And that's actually the honest-to-god answer! We're cleaning everyday.
WARPIGS HOSTS PLENTY OF THE WORLD'S TOP BREWERS FOR COLLABORATIONS – HOW DOES IT FEEL WORKING WITH THEM?
Sometimes, I forget, because they're like everyday people and behave like everyday people. But sometimes, it also hits me, and I'm like, whoa! It's actually quite cool! Mikkel's still super inspiring, and it's never going to really change. I know it's kind of cheesy, but you can tell that brewing is something he really enjoys doing. During the Copenhagen Beer Celebration, we also brew with a lot of the people coming through, and we're fortunate to always brew with super nice brewers who have like ten times more experience than us and not afraid to share their knowledge. Matt Brynildson from Firestone Walker, for example, is a hop genius, and there are things that we do differently with our hops now only because we brewed with him.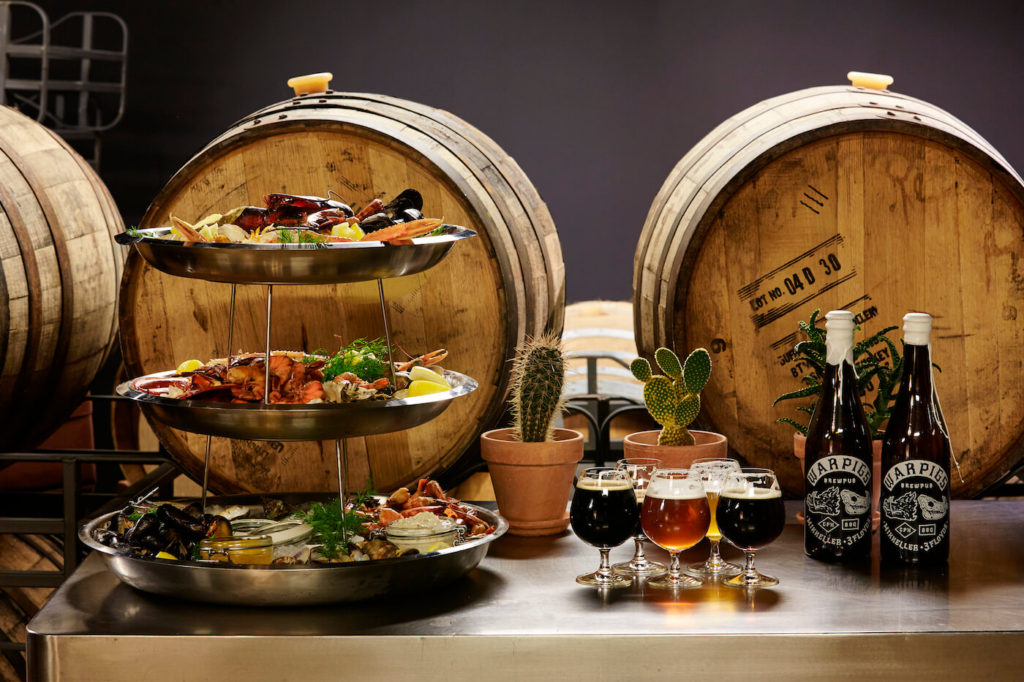 And this year, we got to brew with Hill Farmstead's Shaun Hill – it was super nerve-wracking. He was here checking in on us from the day we were propagating his yeast, and he would check in everyday, and he basically brewed his beer on his own. Later on, he apologised for being bossy, but we didn't think he was being that way. I liked that he cared enough to make the beer – because you know collaboration brewing is often like the guest brewer coming in and drinking. Brewing with Tony Lawrence from Boneyard Beer from Bend, Oregon was also amazing. He's like beer royalty, he's been in the business for 20 years and is first and foremost a professional snowboarder. Brewing with him was great because everything for him was based on sight and smell, and he does everything by feeling, not so much with computers and spreadsheets.
TELL US, WHAT'S ON THE HORIZON?
I hope to still be here at Mikkeller, and an excellent brewer by then. There's always something new to learn, and this may be a bit over the top, but when I wake up and on my 20-minute ride to work, I'm just thinking of what I'm going to do at work. It's exciting to me
when I find a way to do things better and differently. Also, I like to think ahead not just
for myself, but just like, I know if I do this right now maybe the person who comes in tomorrow in the morning is like, oh great, one step has been done. And the nice thing is that Kyle and Duff are also the same way. Everybody's benefitting from what you did today.
---
Warpigs Brewpub / Flaesketorvet 25, The Meatpacking District, Copenhagen / +45 43 48 48 48 / warpigs.dk
This story was first published in Issue 03 of DRiNK Magazine Greater Asia. Subscribe to the magazine here.