The Bangkok bar heavyweight's cocktail kingdom takes flight at Ophelia. By Holly Graham.
Designer Ashley Sutton has uncaged Ophelia, the first of three openings in the city. Sutton is the mastermind of venues such as The Iron Fairies and J Boroski Mixology in Bangkok, and Ophelia is very much in keeping with his signature fantastical themes and stunning aesthetic. Patrons must begin their story of escapism by entering through the shop front of Mr Wong's Aviary. Much like Sutton's other venues, Ophelia has a legend behind it. Mr Wong was a Chinese shopkeeper, devoted to his collection of birds. One day, he mysteriously received a peacock wearing a copper ring band with "Ophelia" on it and Sutton's design represents the magnificent beauty and elegance of the peacock. On where the idea for the story came from, Sutton says the idea for this concept is one of the oldest he's had. "When I used to work in the mines, sometimes I'd imagine this little girl who was mesmerised by peacocks. When I walked into the space in Hong Kong, I knew that this concept would suit this place. I also looked at the history and culture of Hong Kong, taking inspiration from their 19th century upscale Opium dens."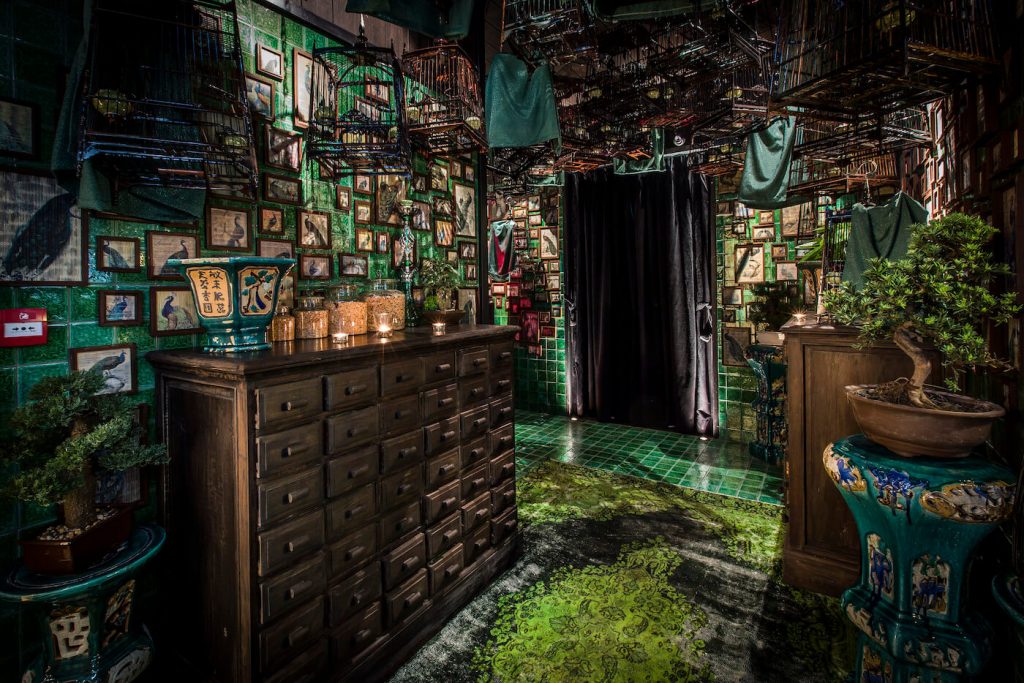 In keeping with the opium den aesthetic, Ophelia's sprawling space houses alcoves and semi-private rooms, decked out with luxe velvet furniture. Paying homage to traditional Chinese designs, each archway panel emulates arched Chinese garden entrances, while a vast majority of Ophelia's design elements, such as screen painted bamboo, industrial art pieces and ceramic tiles feature peacock motifs in some form. Sutton's favourite element is is the bar rail, which he meticulously cut into five inch tubes, cutting each tube at every inch before re-welding them together to create a line that mimics the pattern on a peacock's leg.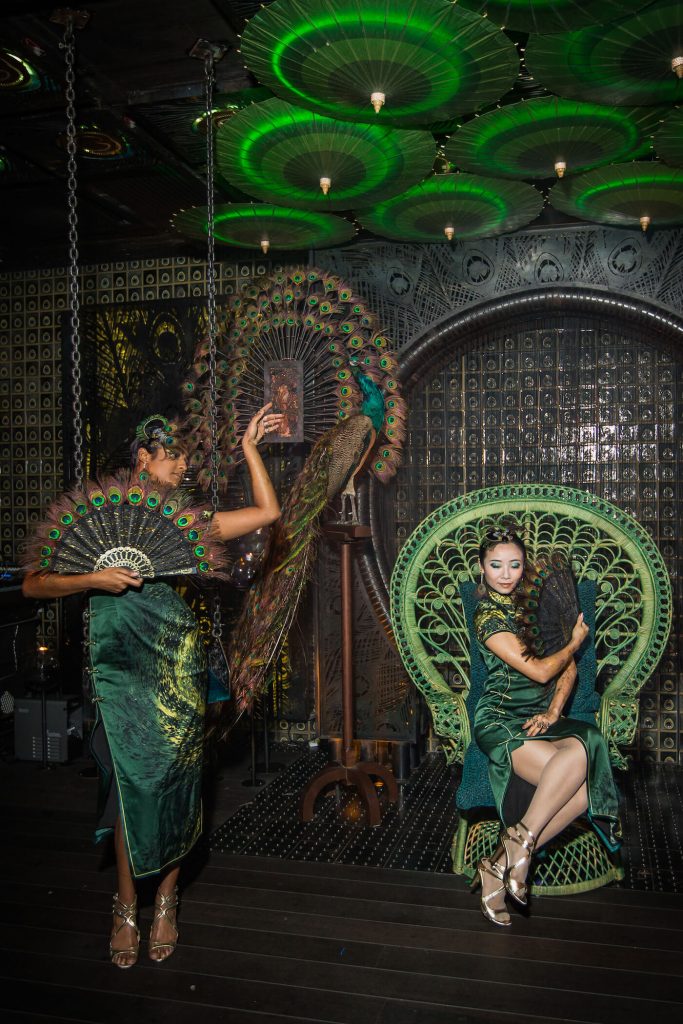 Sutton intends for his guests to escape the pressure and repetition of everyday life: "I want to transport people to another world where they can leave all their worries behind and be completely immersed in another frame of mind – somewhere they normally wouldn't go." The ethereal fantasy of Ophelia can be seen in the waitresses wearing cheongsams or women draped effortlessly on raised beds behind the bar, fanning themselves. Sutton's reasoning behind the beauty is that he's designed Ophelia mainly for women, saying "I want it to be a place where they can spend time, feel comfortable and enjoy the decor, food, drinks and ambience. I expect Ophelia's patrons to be classy, sophisticated and elegant."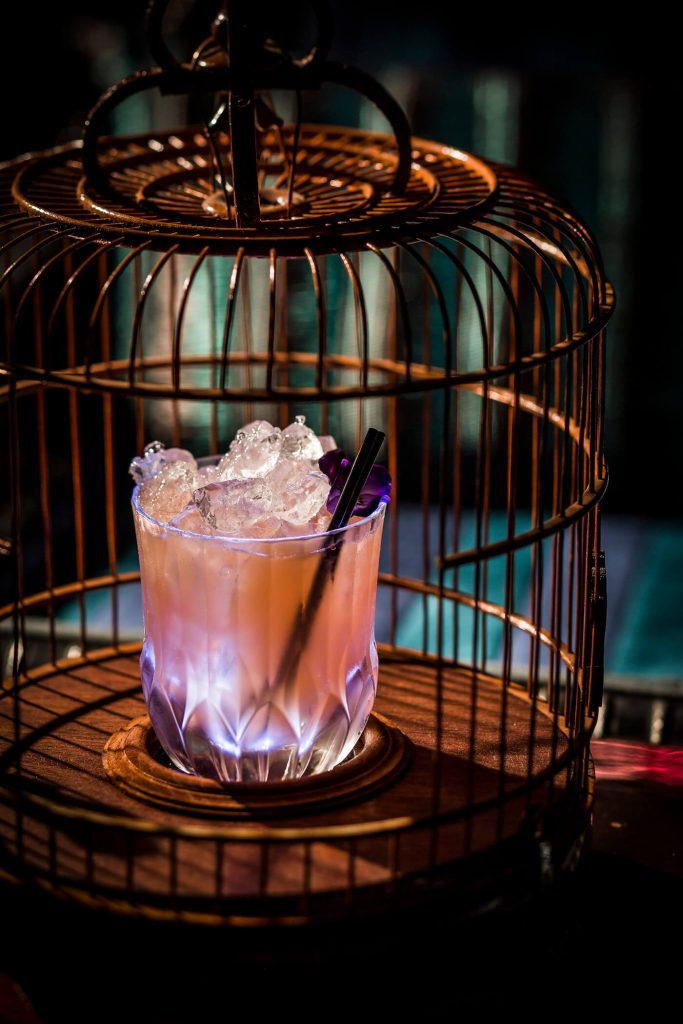 Ophelia's cocktails use ingredients from the "Cabinet of Curiosities", which houses aromatics, Asian herbs, spices and fruits. Ophelia's signature is the Cheongasm (¥112), an illuminated drink served inside a birdcage. A blend of tequila reposado, homemade pomegranate cordial, La Quintinye red vermouth, lemon, lime and cinnamon mist it is as exotic as it is beautiful. Ophelia's food and drinks aren't the main draw, there's also regular entertainment including an international DJ program, but arguably its biggest draw is a concept and decor that is entirely new to Hong Kong's bar scene. The city has restricted Sutton in a way he's not encountered in Bangkok: "I had a lot of amazing ideas for the venue but most of them involved breaking the rules like having live birds walking around, beautiful muses in sheer costumes, body painted artists and many more but I won't tell you now in case it does happen later. In Bangkok, I could've got away with it but I've had a lot more restrictions here." With two more venues on the way, the Hong Kong scene is holding its breath to see what he gets away with next.
---
Ophelia / Shop 41A, 1/F, The Avenue, 200 Queen's Road East, Wan Chai, Hong Kong / +852 2520 1117 / ophelia.com.hk
This article first appeared in issue 44 of Drink Magazine.