Italian bar legend brings his trademark flair to HK with Maison Eight in Kowloon. As told to Jonathan White. 
Hong Kong is the capital of Asia for me. There's a great deal of culture here. There are a lot of great bars here. Everybody thinks about Hong Kong as a centre, so it's right for someone like me who carries quite a strong name. Kowloon is very much what I would say is London's Shoreditch. It's not the Mayfair. I think Kowloon has very much got that thing of coming up because everything else is done, if you know what I mean.
I have dreamed and breathed this place since I started the idea of coming. I'm excited. I really feel like I am reborn again. This is something totally unique as a space because in Hong Kong large spaces are a rarity. And I must say Tim Shepherd, the designer, has really come up with something quite spectacular. I really like this ceiling. Totally unusual. It's a bird cage, colonial. The palm essence. The pineapple leaf. The sense of belonging. It's very clever, very Asian. The lighting, the ceiling really comes alive. And the bar has been designed in the way that gives these guys everything that they could expect – it's like the Rolls Royce of bars. It's the three-step philosophy, you know? One step and reach, one step and reach. And in those three steps my guys are able to make every drink that is in the cocktail list.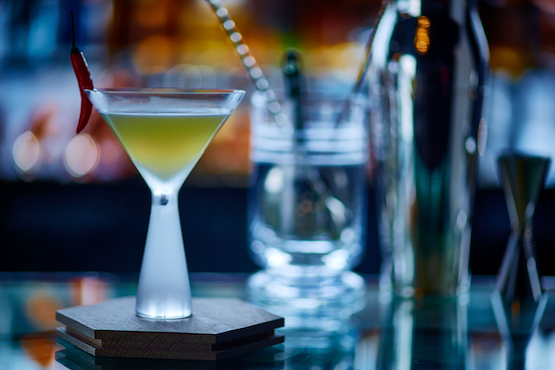 I don't like a cocktail bar which only has eight cocktails or ten cocktails on their list. Where is the journey, where is the idea? Our cocktail list is incredible. It gives a real experience. It's a little bit longer and a bit bigger than normal. My signature cocktails, something that truly represents who I am – the Breakfast Martini, the Spicy Fifty. Then there's a section on champagne cocktails, which we serve in some very beautiful glassware. There is the section of "Maison Eight" drinks and "Oriental Joy" – because I'm in Asia, I have to respect the environment. So we have some very unusual cocktails: spicy with flavours from Asia. But a cocktail bar without the timeless is not a cocktail bar. I truly believe that if you have a craft bartender, they should know the classics. So what I've done is created a section called "Timeless and Twisted". There's one called Remember The Maine No2. It's barrel aged in Limousin oak for a month, but we wash the barrel with flavours for a month first. We also have draft beer here. Normally I don't – it's all about the bottled beers – but people ask for it. So how do we give a draft beer his own identity that's stylish and elegant? Put it in a cabinet. It's behind a cabinet and you open up the door and you have a real elegance about that no one else in the world has. So now even draft beer in Salvatore's world comes with a bit of a twist and a bit of elegance, a touch of class. I'm hoping with the Hong Kong Salvatore people start to understand why they call me the Maestro in that respect. I hope even not being here I can give it the soul, a little feeling. Obviously I'll come very often, as often as possible, but I am not based here. So I'm hoping that through my drinks people will see, feel and taste Salvatore. I will make sure there will be a picture of me here – I just hope they don't play darts.
---
Maison Eight / 8 Observatory Road, Tsim Sha Tsui, Kowloon, Hong Kong / +852 2388 8160