Antonio Lai on his new partnership with chef Vicky Cheng in Hong Kong. As told to Alex Ko.
Wine pairing is good, but it's not too difficult to have a basic wine pairing – white and red and dessert. We've a good wine list, but we focus on cocktail pairing.  Every now and then you see a Michelin star chef pair their food with a cocktail, right? The problem is that pairing lives for a week or two and then you never see it again. We figured that we'd make that pairing, the collaboration between bar and kitchen, an everyday thing. We're the first restaurant to have an everyday pairing in HK. I don't know if other countries do it as well.
The kitchen makes the first move, usually. About a month before we change the menu, Vicky creates a dish and tells me, "Right, I want you to use this, this, and this". Now it's my job to use all my products, all my techniques, to make those ingredients come out with the right texture and colour, and at the same time accentuate the dish. For example, for our tuna tartare, Vicky asked me to use dashi, cucumber and lemon. It's a challenge, sure, but at the same time it's a chance to play with ingredients I would never normally use.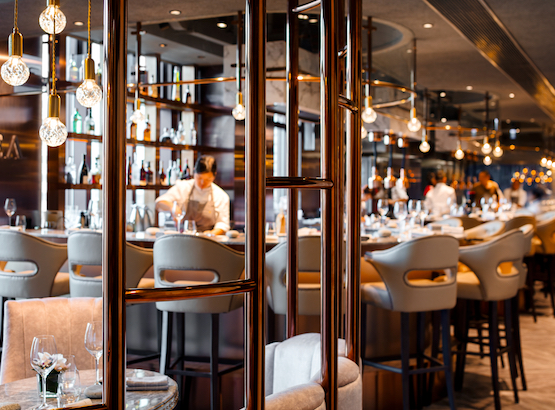 The pace is crazy. We change one item on the food menu every week, and that's decided a month in advance. But then there can be last minute changes just two weeks beforehand. Sometimes we change for the season, sometimes because Vicky gets bored. We had hairy crab for a month, then it was abalone; we're replacing the venison with wagyu beef. But it means we need to plan every cocktail with incredible detail, just to keep up. You need to remember most importantly that the dish needs to be enhanced. It's not hard to make a good drink, but difficult to make a food pairing. The end result might be a cocktail that doesn't taste all that great on its own, but takes on a whole new character when combined with the dish it was designed for. Because of that, we've had to abide by strict schedules in our development, so that we can make the drink at the same time the dish is being tested in the kitchen. Sometimes we have to go back and test it four or five times, up to a week before the dish hits the first table, which is difficult with me travelling every month. Besides that, the way you consider the final product is different. For the abv and portion size, for example, we need to consider that the pairing menu includes seven cocktails: we want the guests to enhance their meal, not fall off their chairs.
Recipe (Click to view)
Salted Negroni
---
VEA / 29/F, The Wellington, 198 Wellington Street, Central, Hong Kong / +852 2711 8639 / www.vea.hk