Gn Chan, Faye Chen and Tako Chang share their journey from a pandemic stricken opening to taking the top spot on North America's 50 Best Bars. By Holly Graham.
You are currently number one on North America's 50 Best Bars, and number 6 on The World's 50 Best Bars. Talk me through the emotions and feelings at those announcements.
Faye/Gn: We just kind of blanked. We didn't expect any of these awards or recognitions, cliché as that sounds. When we finally found a moment of tranquility, we wanted to go back to the hotel and video call our team to share this overwhelming joy with them!
We firmly believed Double Chicken Please is a young brand that thrives on the spirit of teamwork and consistently conveyed this message to our team. We emphasized that without the collective efforts of each individual, our success would not be attainable. Recognising that it's a long and challenging journey, we remained dedicated to refining our daily service operations, conducting weekly bar team training sessions and service training. We aim to grow together and bring the brand forward as a team.
What made you decide to first tour the concept and why the USA?                                             
Faye/Gn: During the process of searching for locations, we had an idea to tour across the USA to create buzz and introduce our brand and concept as a pre-tease. It would also provide us with an opportunity to embark on a road trip, exploring different states and gaining inspiration along the way. However, given the limited resources, we collaborated with spirits brands to help fund the trip and reached out to bars we were acquainted with. The support we received from both the industry and non-industry friends and family has been invaluable, and we remain deeply grateful to them. We are so honoured to receive overwhelmingly positive feedback! People were intrigued by our unique drink approach and the story of our journey. The support, combined with the collaboration with spirits brands and bars further enhanced our credibility and visibility during the tour. Overall, to pull off a USA tour wasn't easy but the reception was highly encouraging and reinforced our belief in the potential success of the brand.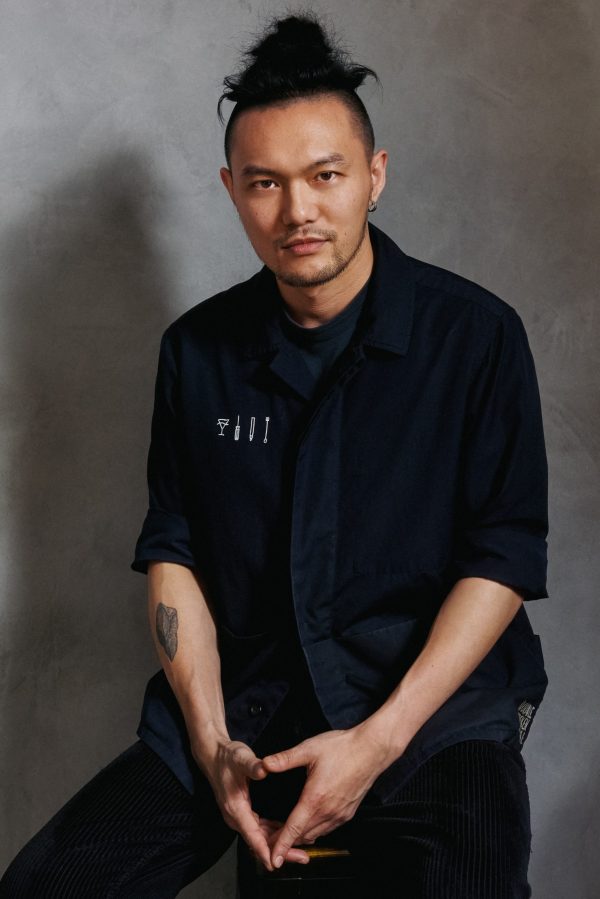 You opened in November 2020 when the pandemic was still at its height. Why did you decide to go ahead and not pull the plug? Did you ever have any doubts?
All: We were left with no choice! We had invested all our money and poured all of our energy into this endeavour. It took more than four years and involved exploring over a hundred locations before we finally secured the current location. Despite the pandemic reaching its peak, we had team members who needed to be taken care of, and our survival depended on it. Opening the door was the one and only option.
While we certainly experienced moments of self-doubt during this challenging and bumpy journey, the sheer weight of everything happening simultaneously often left us too overwhelmed and exhausted to entertain those doubts. We were so caught up in managing various aspects that we were surrounded by barely had time to contemplate our own uncertainties.
How does it feel to get recognition in the USA as non-American founders and represent Asia?
All: We feel incredibly honoured and proud to be the representatives from Asia and Taiwan! Being physically distant from home, friends, and family, and being away from the cultural familiarities you are accustomed to can indeed be challenging at some points. It creates feelings of homesickness, loneliness and a sense of being out of your comfort zone. Adjusting to a new environment, different customs, and potentially unfamiliar social norms is a struggle and it takes time and effort to overcome them.
We don't promote ourselves as an Asian-owned business, and our team is built from diverse backgrounds and cultures. Being immigrants, we hope to create a culture that embraces and celebrates diversity, for individuals from different backgrounds to connect and find a common ground. This shared value system helps create a harmonious and supportive workplace where everyone feels proud to be part of the team.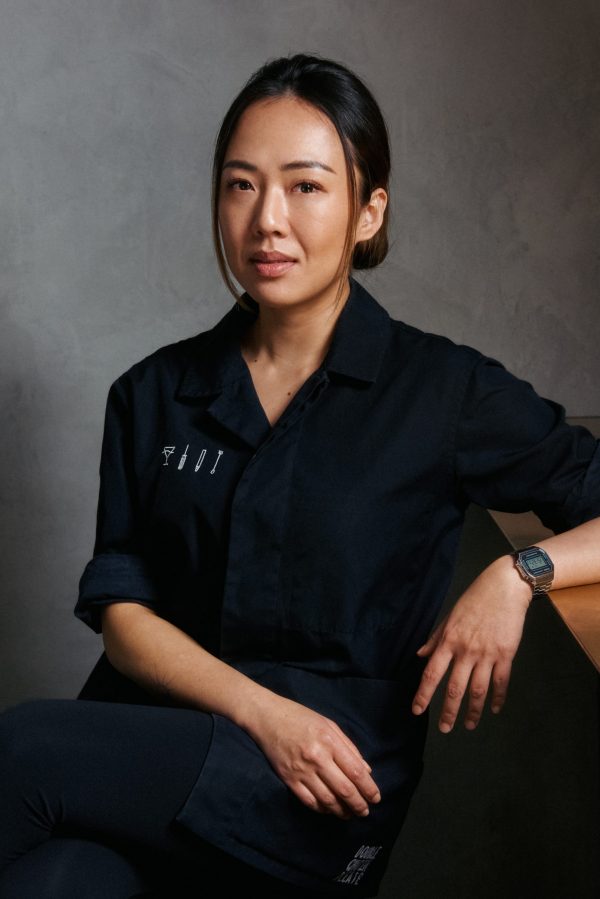 What techniques/styles/life skills have you brought from your beginnings in Asia to NYC?
Faye/Gn: In the realm of hospitality, there are two notable aspects derived from Asia that we bring to New York City and implementing at Double Chicken Please. In Asia, the F&B hospitality industry typically operates with full-time positions across various roles. Whether it's the general manager, bar manager, bartenders, servers, kitchen team, marketing/PR, or administrators, all positions involved in running a bar or restaurant are considered full-time positions. In contrast, it is common in New York City for individuals to hold multiple jobs at different businesses establishments. This means that it is typical for someone to work at several establishments rather than being exclusively employed by a single establishment in the hospitality industry.
At Double Chicken Please, our hiring policy focuses on recruiting full-time employees to foster a strong team culture and facilitate continuous training, investment, and growth. This approach ensures that our team members are actively involved in the day-to-day operations, working together to cultivate a cohesive team culture.
Throughout our careers, we have been consistently taught that being detail-oriented is of paramount importance in internal service training. This emphasis on attention to detail ensures that we provide exceptional service to our guests.
We place a strong emphasis on cultivating a team that is consistently detail-oriented. We firmly believe in the saying "the devil is in the details," and apply this principle to every aspect of our operations, including daily tasks, bar preparation, bartending, service execution, hosting and managing guest experiences and expectations. By paying careful attention to these finer points, we aim to strive to deliver an exceptional and memorable experience for our guests.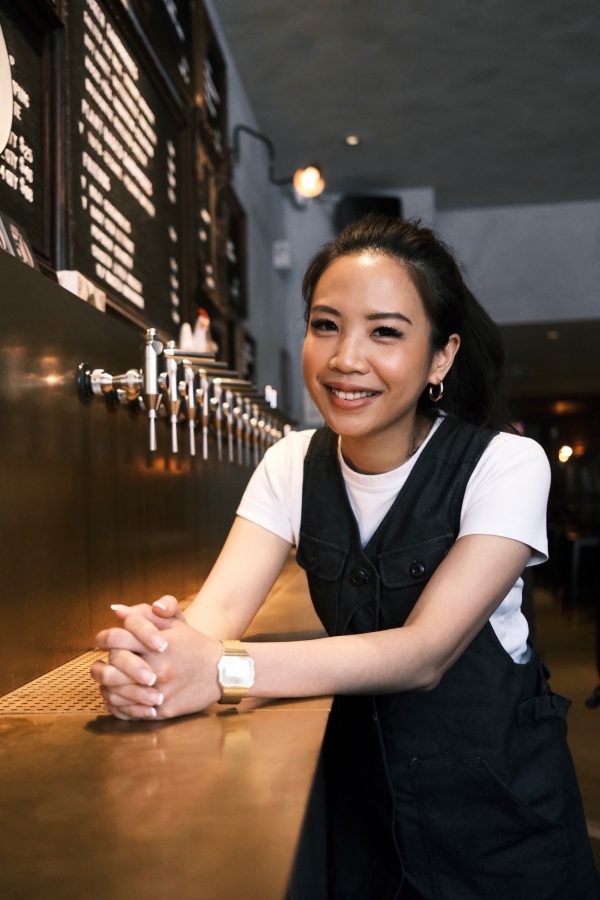 Tako, what challenges have you encountered moving from the corporate side to independent?                                                          
Tako: Despite the heavy workload involved, I find great pleasure in the freedom that comes with creating a brand from the ground up. This freedom grants me the opportunity to shape a brand according to my vision and witness the immediate outcomes. Moreover, I derive satisfaction from viewing challenges as opportunities for growth, and successfully troubleshooting them serves as motivation to thrive further.
Where did the idea to turn food into cocktails come from and your "hacking design" approach?
Gn: The concept of hacking design ­– which I learned during my studies in industrial design – greatly influenced me. It is a technique where you take an item/object to deconstruct and rebuild into something else or a new form. I was captivated by this concept of it and I love to create and design. So I decided to apply this approach for our drink menu in our back room The Coop, where it allows us to reconstruct a dish item and to rebuild it by exploring the flavours, ingredients that bring them to life in a new liquid form to merge culinary and mixology elements in an innovative way.
You use ingredients such as winter melon to create the Key Lime Pie. What other strange hacks/flavours have you found to replicate food that are surprising?
Faye/Gn: The surprising flavour outcome from the combination of winter melon with the Plum I Suppose spirit by Empirical was a long process of R&D, but it is something that hacking design technique is part of and we enjoy it! Our cocktail French Toast includes all the ingredients found in actual French toast, but we incorporate a homemade coconut syrup as a "bridge" ingredient. By doing so, it helps to harmonise the various components of the drink and create a cohesive taste profile.
Faye and Gn, when you first met, did you ever think you'd be where you are today?                                                    
Faye/Gn: No! When we embarked on the journey of opening a bar in New York, we had not anticipated the significant amount of time it would take to find a location before settling on our current space and the size of the venue also exceeded our initial plans and expectations. Furthermore, the unexpected struggle with COVID-19 added more challenges that we had not foreseen. Navigating the restrictions and adapting the operations to comply with safety protocols required immense effort and flexibility. Despite all the obstacles, over the course of two years, we managed to build a team of over 25 individuals who contributed to the success of the brand and to achieved recognition on a global scale, surpassing our own expectations. We are proud of the accomplishments we have attained during this time and are super grateful for the support we have received. Every day we grind together and thrive together.
What's next for Double Chicken Please?     
Tako: As a brand and as a team we evolve together. Double Chicken Please is moving forward into three key pillars:
F&B experience and products: We place serious emphasis on regular service training and bar training. We believe that it is essential for our team members to be well-trained in providing exceptional service and equipped with troubleshooting skills. By maintaining high standards and investing in training, we aim to elevate the overall guest experience
Original event curation and cross industry collaboration: In addition to our dedication to perfecting the service and products, Double Chicken Please takes pride in creating original events that highlight our in-house design expertise. We showcase our creativity through the transformation of the interior design, ambience, and create unique creatively designed cocktails that offer a multi-sensory experiences for the guests. This focus not only allows us to showcase our brand's identity but also prove an opportunity to collaborate with other talents from different industries to expand the network and build new commercial connections.
Brand development and merchandising: Double Chicken Please positions the brand as a "Design Studio" that goes beyond designing our products, hospitality, service and events. Our approach includes treating our merchandise as another avenue for creative expression and design. Every piece of merchandise offers a platform to tell a story about our grand. From the design of the merchandise itself to how it is presented and integrated into our overall brand narrative. By curating and designing our merchandise, we aim to communicate the essence of the brand and engage our audiences on a deeper level. We see the merchandise as an extension of our storytelling, allowing us to create a cohesive and immersive experience for our guests.