To celebrate Valentine's Day, some of Asia's bar industry power couples share how they work with their significant other. By Holly Graham.
Rusty and Zuzana Cerven (Manhattan, Singapore)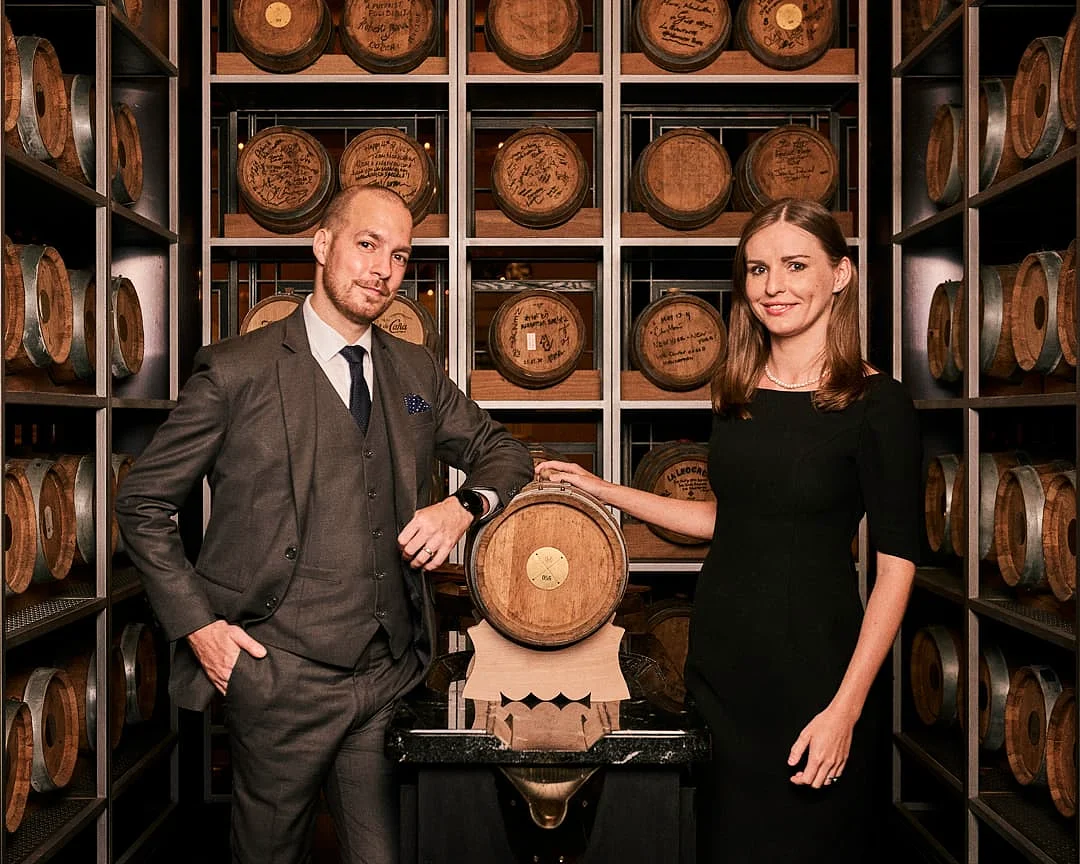 How did you meet?
Rusty: It was summer of 2011 when I was on vacation back in my home country and met up with my ex-colleagues where we got introduced for the first time. 
Zuzana: Long story short; I was a newbie in the capital city back in Slovakia, and while I was chilling at the riverside beach on a sunny Sunday afternoon, drinking beer with my colleagues, I saw a guy walking by looking at me. I decided to hold his gaze as he was cute, genuinely thinking I would never see him again anyway. It turned out it was Rusty joining our party when he visited home back from London.
What made you decide to work together?
Zuzana: After a year of long-distance relationship, I moved to London where Rusty had already lived for the past three years. I started as a junior bartender at a free-standing cocktail bar, I loved it, although after almost a year Rusty approached me with an opportunity to join their team at the Connaught Bar as a waitress. We were both deeply committed to our careers which we absolutely loved and to our new relationship too so there were a lot of risks to discuss. 
Rusty: We shared the same passion and principles from the beginning, when the chance to work together arose, we had long discussions about our feelings and took all the challenges into consideration. Only after that we have decided to give it a try. We were determined to overcome any challenges and grab the chance of combining our strengths together. Three years later we continued working together on opening The Gibson (London) until we moved to Singapore in early 2017, where we have initially focused on individual goals. While I was opening a new members club, Suzie joined the Manhattan team from the very beginning. However, almost four years later in 2020 the stars aligned when I got a chance to lead the team at Manhattan and we ended up working side by side again!
What has been the hardest part about working together?
Rusty: I believe the hardest part is to learn how to separate the challenges at work and detach ourselves from any emotion that could affect either work or our personal relationship. Of course, not every time we shared the same opinion or the way how we envisioned to run the operation, but luckily it never got as far to involve the personal matters.
Zuzana: It takes a high level of maturity and professionalism on both sides. You need to learn how to separate your working life from your personal life. We both had to agree that any personal issues must be left at home when we go to work, and any professional issues are to be left in the bar when we go home. But the hardest part was probably that you barely can go on leave or travel together if you work together. The days off had to be alternate most of the time. 
What has been the greatest part about working together?
Zuzana: As we were both full of energy, optimistic and determined to live life to the fullest, it was great to also share our common passion for hospitality together and with our guests. Rusty has always been a mentor to me at work and I have considered it as a privilege that I could ask him for professional advice at any time. Plus, it was so convenient to have a personal motorbike driver and didn't have to travel hours by bus at night in London or we could just share a taxi home in Singapore!
Rusty: Both of us having several years of experience in hospitality and sharing the same passion helped us to overcome any challenges during the time at work. Down the line we both understood each role and purpose of service and we had been lucky to be able to fill each other's gaps and to create the best experience for our guests.
How do you separate work and your relationship both while at work and at home?
Rusty: I feel like working together helped us to separate the personal life even more, as we shared the same experiences throughout the day, so we could "switch off" right away as we stepped out of the bar. There was no need to let off steam at the end of the day and if so, we understood each other's feelings so we could quickly focus on hobbies and spending the free time together.
 Zuzana: Every place we have worked together needed a different recipe. But one thing we have stuck to over the years was to switch off and on regularly. Our professional relationship started each day after we crossed the doorstep at our hotel, and we relaxed after we came back home. If we have a difficult day at work, we open a bottle of wine together, share a good meal, watch a movie and we feel happy and satisfied.
What's one piece of solid advice you'd give to couples looking to go into business together?
Rusty: It is very important to be open and honest to yourself and to your partner if you can make it and if you can imagine working alongside each other. It is not easy and sometimes there are certain decisions made by either side that could potentially undermine each other's authority. There must be mutual respect and keep a cold head in challenging situations. Not everyone is able to do so and that can affect how your partner starts to see you in a different light.
Zuzana: First, you must come to some agreement on core aspects of your relationship, your values, fears, and boundaries. Negotiating and finding common ground in these areas helps to navigate difficult decisions because then we can agree on criteria in advance. And doing this together is so important. Be open to each other. From a business perspective, don't forget about your team, don't try to make all decisions only you two together, but also don't go against one another. These behaviours are never helpful especially if you have colleagues behind. The strict hotel rules taught us to work together seamlessly however we have also seen how the workplace culture might not be as healthy or accommodating if not managed well. It all comes down to the self-awareness of each couple to understand how their relationship impacts everyone's perception of them. And have fun, it's a wonderful ride. Although, I currently took the full time role of being mom and taking care of our daughter, I cannot wait until our professional paths will cross together again!
Basiten Ciocca and Marcia Xiao (Hope Group, China)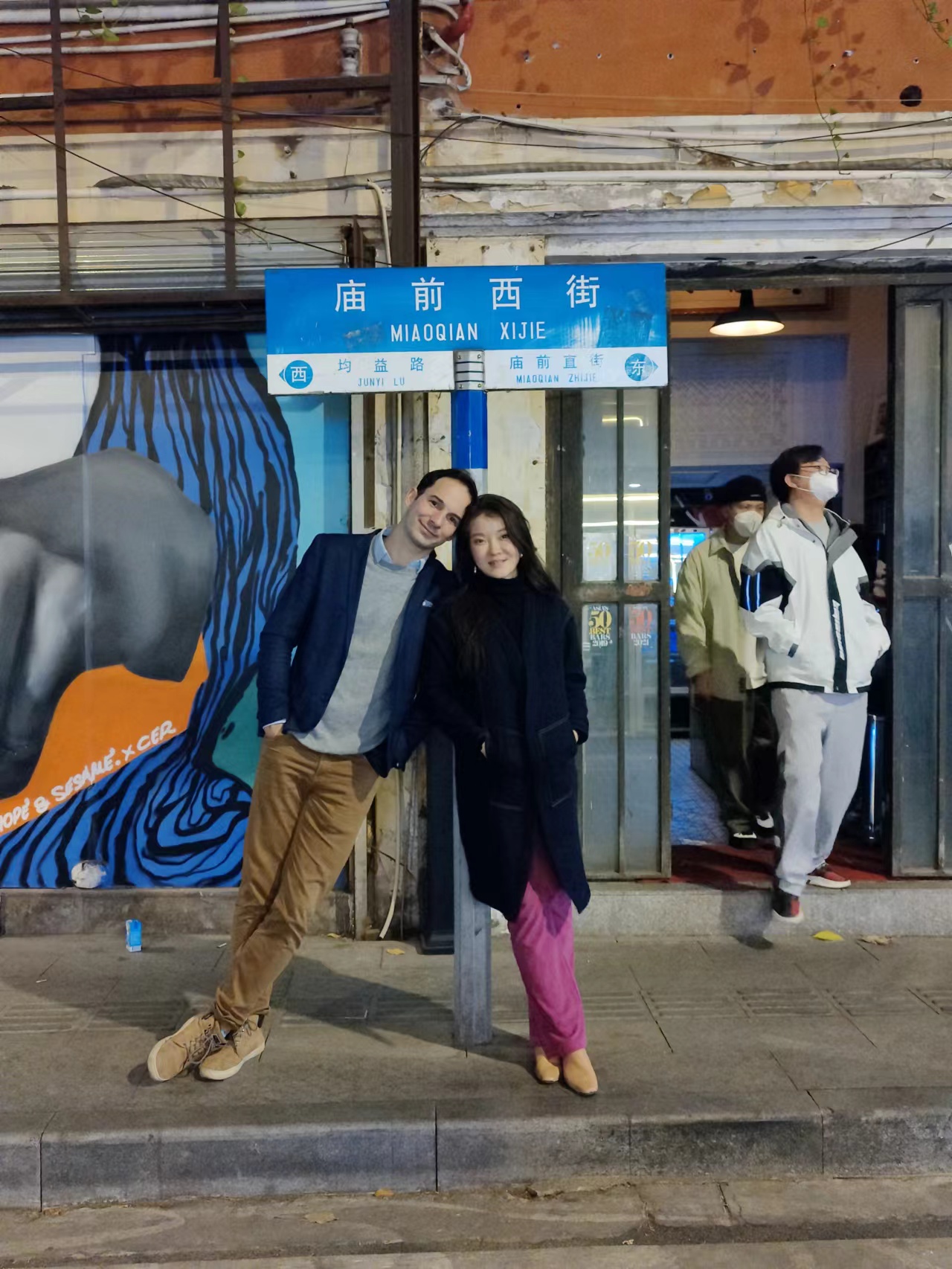 How did you meet?
Bastien: We met in Borneo, Malaysia. We arrived two days apart to start an internship for the Shangri-La group, both arriving straight from Switzerland where we studied in two different hotel schools. Two days later was Marcia's birthday, and I got her bottle of Billecart Salmon Rosé, and realised the next morning that my entire first salary was gone! A month later, after fighting over a burger, we got together. That's was 12 years ago.
What made you decide to open venues together?
Bastien: It was a multitude of factors that made it what it is today. Together with our partners Andrew Ho and Amethy Huang, we started the journey as a small team and traveled a lot together for events and shifts. Language, local taste buds, habits and behaviours are just a few points that it is hard to understand and learn as a foreigner. Having someone you deeply trust, involved in everything is also really important.
What has been the hardest part about working together?
Marcia: Work and life imbalance, day and night work or not working, eating or jogging together mostly is about work. There's also a lack of sharing the excitement of work – yes our work is exciting but we share enough already during work, and during off time if you're still sharing it feels like reporting to each other. It also feels like we never have a real off day!
What has been the greatest part about working together?
Marcia: We can travel together and never lack the same interests, therefore we understand more about each other. 
How do you separate work and your relationship both while at work and at home?
Bastien: It's a long learning curve to understand what the boundaries are and how to keep some of the issues and stress within the wall of the bar and not bring them home. Searching for some activities and hobbies that are entirely not related to the bar industry is a great way to have a good time doing something else. Creating "working hours" and time off at home and having places within home that you don't bring work related topics – the bedroom is the best place to start.
What's one piece of solid advice you'd give to couples looking to go into business together?
Marcia: First, think twice. If you don't and don't care for your partner deeply, you will have home and working conflict, and you have the same crowd of friends so any drama and news travels fast. Not everything is negative – once you start to enjoy it and really achieve something, you will have double achievement and you feel great about it being able to help each other and enjoy the end result together.
Jon Lee and Maria Escobia (Penrose, Kuala Lumpur)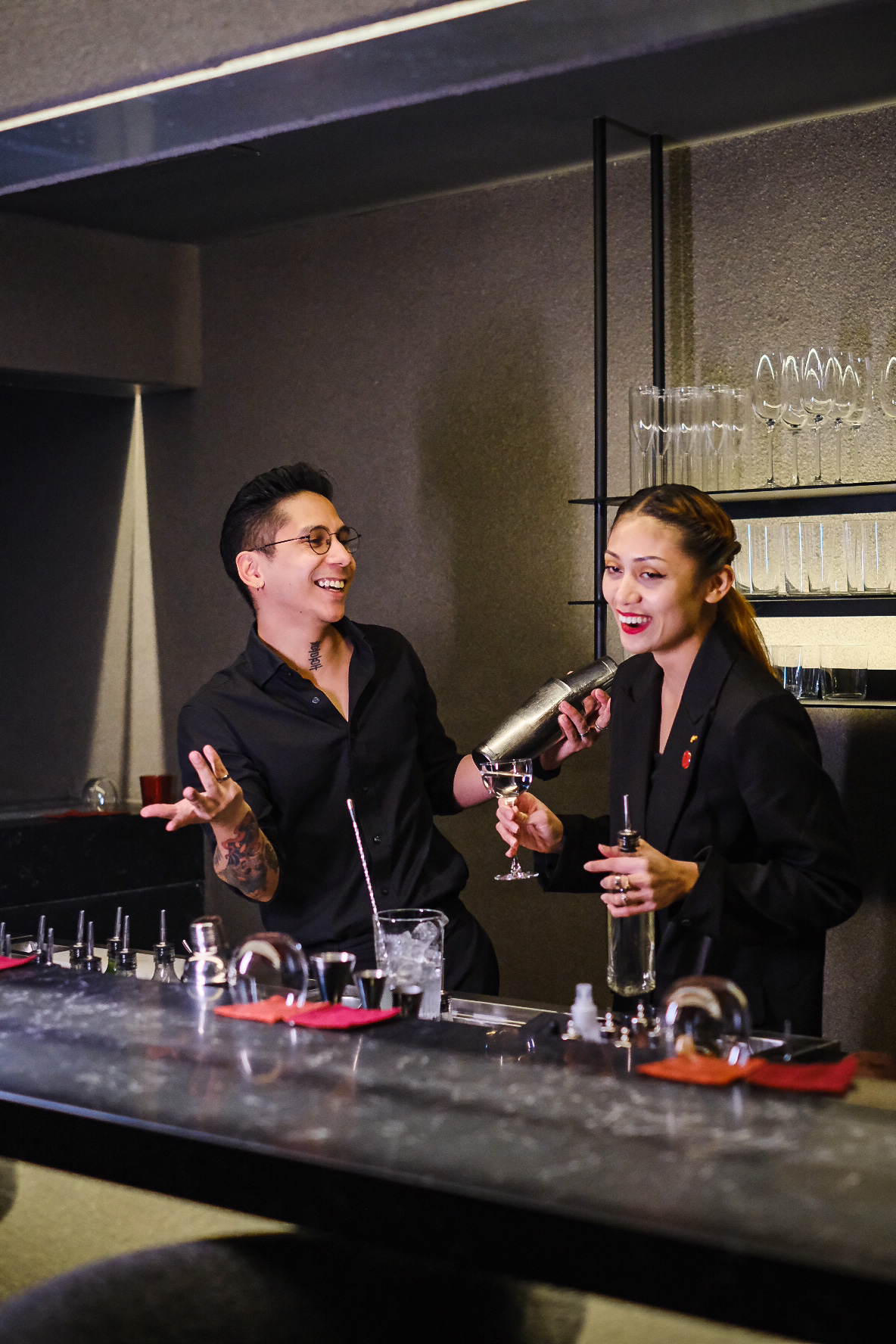 How did you meet?
We met in JungleBird (Kuala Lumpur) in 2018 during the Bar Awards after party. A bartender friend introduced us
What has been the hardest part about working together?
We don't think there's anything challenging working together. The essential core of our relationship is actually communication. If anything, it strengthens how we communicate as a whole. A principle we agree on is keeping it professional so the team knows there are no biases in decision-making or privileges when it comes to the business and relationship.
What has been the greatest part about working together?
Sharing a common passion and a goal together while having fun in the process. It's hard to explain but when both people have a goal that we accomplish together it's a priceless feeling. And the unlimited amount of booze we consume!
How do you separate work and your relationship while at work and home?
The eternal anguish of what we are going to have for supper and what movie to watch, those problems surpass any work-related conversation as a separation from work.
What's one piece of solid advice you'd give to couples looking to go into business together?
Trusting the process, anything can happen at any time in relationships and business. It's about making the most of every day, especially with the one you love, which makes the process all the more fulfilling.