Suchada "Fah Beer" Sopajaree, co-owner of Wasteland, Thailand's first sustainable bar, reveals her favourite bars in Bangkok. By Holly Graham.
Classic cocktail bar: Q&A
Somehow, every visit to Q&A feels just right. The A-team headed by Attapon De-Silva balances hospitality, creativity, and liquid remedy splendidly. From their changing menu, you can see how much they care about the foundations and classics, from mixing the drink right up to the first sip. They even have "The Cocktail Journey", in which you can drink through 52 classic cocktails. There are other subtle things such as daily infused water, house-made olives and other home-made ingredients, and there are only a few who put this much effort into such details. During the recent prohibition, they have launched "QreAm", a 1930s inspired ice cream parlour serving rich ice cream with fun toppings – it's irresistible after the first spoonful.
Craft Innovative Bar: Sugar Ray You've Just Been Poisoned
Even though the bar has relocated from Ekkamai to Phrom Phong with more party vibes, the charms of warm and fun hospitality are still there, as are their innovative cocktails. The interior is more sleek but there are callbacks and tributes to the old location. Vipop "Tor" Jinaphan always builds cocktails that satisfy drinkers of any level of appreciation. Cocktails are often a playful tweak on classics, yet with experimental touches using homemade components that you might have not seen put together before or as garnishes. Bespoke and special drinks are great too. Also, if you still feel like continuing the night, there's Thaipioka Upper Deck right above.
Bar run by a friend: Rabbit Hole
Rabbit Hole has such energy, a great crowd, and DJs pumping up the vibe as the hours go by. It's one of the first high-volume bars in Bangkok with a long list of cocktails that's as crafty as other top notch bars in Bangkok. There are all kinds of drinks for everyone and their favourite flavours. It's where you can shift between dancing with drinks to sitting and talking to the bartenders who are making a dozen drinks at a time. Noppasate "Depp" Hirunwathit is always sweet and makes sure you have a great time. However, when Suwicha "Chacha" Singsuwan is there, you know it's going to be extra fun with her liveliness and the caring shots she gives out as we dive deeper into the rabbit hole.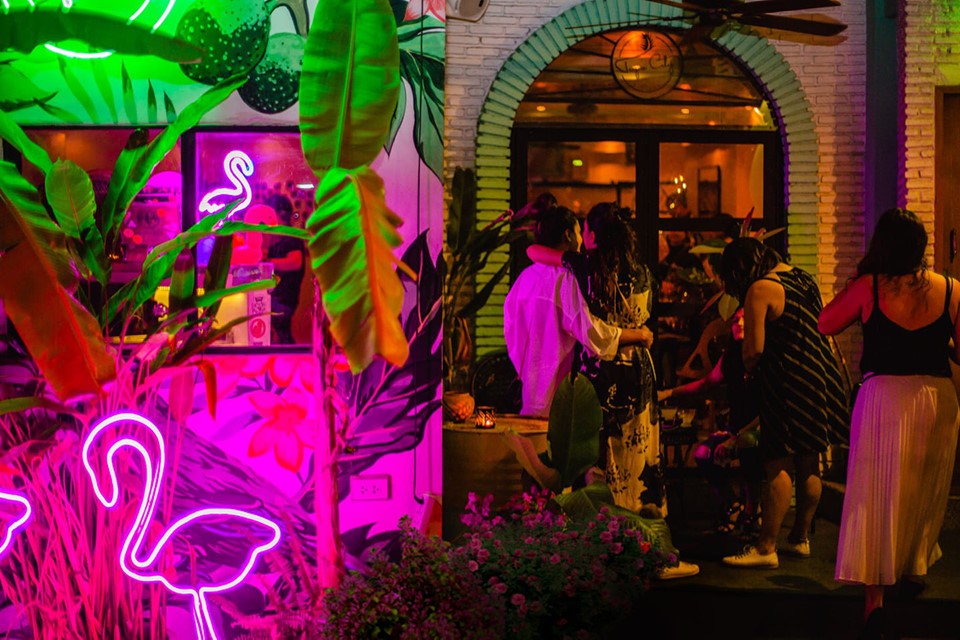 Dive bar: Tropic City
I must state that Tropic City is NOT a dive bar. The place is colourful and spacious with the most vibrant people and sound in Charoenkrung, and does not fit the usual image of dive bar. However, in my opinion, Tropic City has the essence of a dive bar. It's where people from all places – usually in the artistic fields – connect over delicious tropical drinks that are no-nonsense and made with care. There's also drinks for everyone, whether just chilling with a bottle of beer to the rarest rums, and all without pretension. Truly a neighbourhood bar that is so good it attracts people from other 'hoods as regulars. There's the lovely trio that makes Tropic City so great: Philip Stefanescu, who is always genial and supportive; high-spirited Emma Thompson who will make your day, and Sebastian De La Cruz, who slays when DJing with positive energy.
Wine bar: Kang Kao
Owners Anupas "Kong" Premanuwat and Elaine Sun are the sweetest couple. Their venues are delightful as the charisma of the old town Bangkok. Their minimalist spot Ku Bar is like a retreat for me because of the solitude and space to drink and think, but still be able to chat with the bartenders without fuss. Kang Kao similarly allows you to explore natural and biodynamic wines in a much more relaxed way when compared to the usual wine bars. Elaine makes you feel like enjoying wine is fun and accessible, as it should be. Kang Kao recently relocated to be in the same space as Nangloeng Shophouse, which sells homemade food and things like cheese, jam, soda along with flowers and indie magazines – another spot you could spend all day at.
Bar with awesome food: DAG
It's known among the Bangkok bar community that wherever Karn Liangsrisuk and chef Chalermpon "Van" Rohitratana are, there's awesome food and drinks. At DAG in Charoen Krung, Van makes hearty dishes, which are mostly Thai, but sometimes combines Thai food with other cuisines. His rice bowl, grilled dishes and special of the day are a must. Karn makes cocktails that are bold in flavours but usually made of the simplest ingredients. You would be amazed how much complexity he can bring out of such ingredients. He recently became interested in juice pairings that are built like cocktails, with or without booze. They are so refreshing on their own and the flavour pairing is always on point.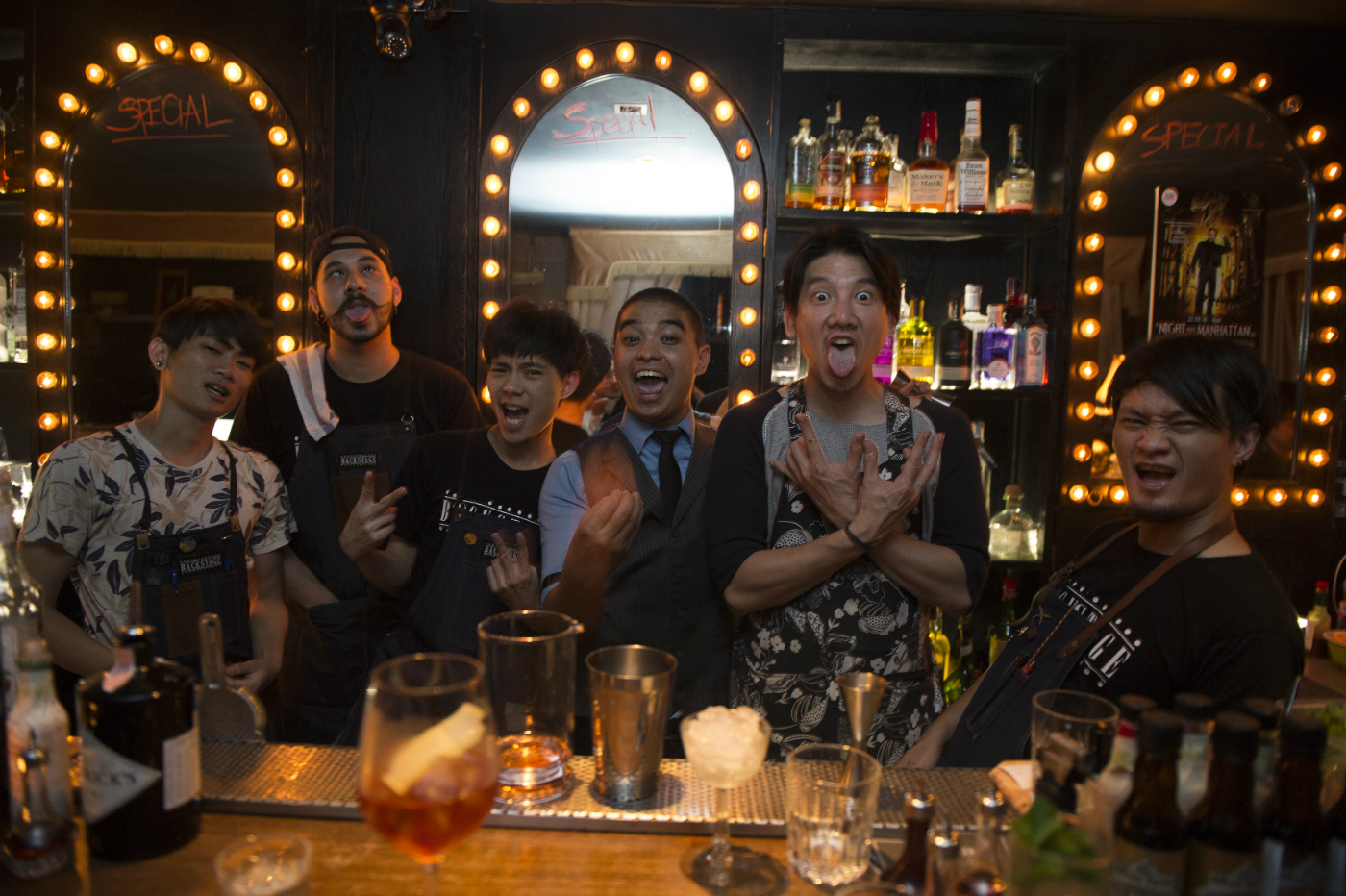 Themed bar: Backstage
A bar by all-star bartenders that is just the friendliest place. It's like coming home where the familiar faces of both bartenders and drinkers hang out. No stiff protocol or boring mood, just casual vibes, movie-inspired drinks, bespoke cocktails and plain old friendliness. The owners may be seen behind the bar every now and then, but the newer and younger team are just as good at hospitality and making cocktails! Most of the time I go there just to chill and suddenly you get to chat with your bartender friends or end up playing board games which are usually followed by late-night meals after last call.
Hotel bar: 008
008 at the Akyra Hotel is very reserved and revered. I have seen Pailin "Milk" Sajjanit mature over the years, and the place is the crystallisation of her passion, experience and all her knowledge of beverages and cocktails. The interior is a contemporary interpretation of sultry drinking dens from the 1920s, with a blissful view of Sukhumvit. Drinks are mostly inspired by classics and especially forgotten classics thanks to Milk's deep dive research into the history of drinks. Her whisky cocktails are always sublime and most of her drinks are presented in a very minimalistic way, but with cutest garnishes and great depth. Apart from the drinks and the team, the jazz and live bands are nice, too.
Bar that's been around forever: Bamboo Bar
Bamboo Bar is one of the oldest bars in Bangkok, having opened in 1953. It's either the first place you visit when you are bar-hopping in the riverside area, or the last place to close out the night. This jazz institution has the timeless charm of 1920s to 1950s. Jamie Rhind and the team deliver a luxury hotel bar drinking experience and sophisticated drinks. Of course, you should visit when the live bands are on as part of the fun is seeing the changing crowds and the regulars, all coming to enjoy good jazz and good drinks. Plus, their bar snack can accompany pretty much anything.