Have you seen Tom Collins? You'd best find him quick. By Elysia Bagley.
I recently joined a group of my peers at an f&b themed trivia night. All the teams, including ours, were made up of various f&b professionals: bartenders, chefs, brand ambassadors, foodies, food writers and critics… you know the types.
Being an industry crowd, there was more at stake than the big prize (a bottle of Dom Perignon) – pride was on the line. Egos were inflated to max capacity. Players taunted, heckled, teased and intimidated. Shots of clever banter were fired across the room while shots of booze were sent to rivals in unsuccessful attempts to cloud judgment with drunkenness. The competition was fierce.
Finally came the round on cocktail knowledge – my time to shine. The questions came in the form of haikus; each one describing a different drink. In each of the previous rounds, questions started off easy and got progressively harder. So, when the quiz master got to number eight or nine, I expected it to be a tough one.
Gin and club soda
Based on a practical joke
Who was that guy anyway?
Our team's first instinct was to go with Tom Collins. But seeing as it was meant to be one of the tougher questions, I second guessed this obvious answer. Brushing aside the "practical joke" part of the poem, I thought… what about Gin Rickey? And that's what we wrote.
Well, as those of you with great cocktail history knowledge will know – I was wrong! Turns out the "practical joke" clue was the most important element. We got 9/10 on that round, and I spent the rest of the night kicking myself and wondering… what's the joke?
I went to DRiNK's trusty bookshelf of cocktail knowledge and pulled out one of Simon Difford's Diffordsguide to Cocktails 7. I turned to Tom Collins, and there it was: The Great Tom Collins Hoax of 1874. And so began my quest to learn more about good old Tom (and yes, the original recipe called for Old Tom gin).
So what was the joke?
It began in New York in 1874, when one friend would tell another that a man by the name of Tom Collins had been badmouthing them in a bar nearby. "Have you seen Tom Collins?" they'd ask, then proceeding to say he'd been calling them names and saying unsavoury things and had best be found asap. The practical joke spread like wildfire, to the point where even newspapers were participating. Cocktail historian George Sinclair writes that one newspaper, the Steubenville Daily Herald, even reported that "Frantic young men rushed wildly through the streets of the city on Saturday hunting the libellous Tom Collins." And there you have it.
Now, there's plenty of lively debate surrounding the drink's actual origin – but there are few popular theories.
1. The Great Tom Collins Hoax of 1874
Some say the name of the drink came from the hoax itself.
2. John Collins
Many believe the drink originated at the Limmer's Hotel in London, whose bar was known to serve Gin Punch. There worked a waiter named John Collins, and a couple of playwrights (Charles and Frank Sheridan) wrote a little tune about him and his drinks:
My name is John Collins, head waiter at Limmer's,
Corner of Conduit Street, Hanover Square,
My chief occupation is filling brimmers
To solace young gentlemen laden with care
My ale-cup's the best that you ever tasted,
Mr. Frank always drinks my gin-punch when he smokes
The idea is that the drink became known as the Tom Collins once people started making it with Old Tom gin, whereas the John Collins likely would have been made with jenever.
3. Whitehouse tavern
Others yet say that the drink may have come from one Mr. Collins, a bartender at a tavern in New York called Whitehouse circa 1873, where he was known for making gin drinks.
Beyond the drink's origins, here's another titbit about the Tom Collins: it's commonly claimed by drinks writers that the first recorded recipe was published in Jerry Thomas' 1876 edition of The Bar-Tender's Guide. I've read this in the works of many drinks experts: the Difford's book I speak of, well-known industry publications, alcohol encyclopedias and blogs by famous bartenders.
I soon came across inklings that this isn't quite accurate – and now I'm certain it's not. A simple online search for the book turned up to a scanned copy of the original 1876 edition of Thomas' guide… in which there's no entry for Tom Collins. Scandalous! See below.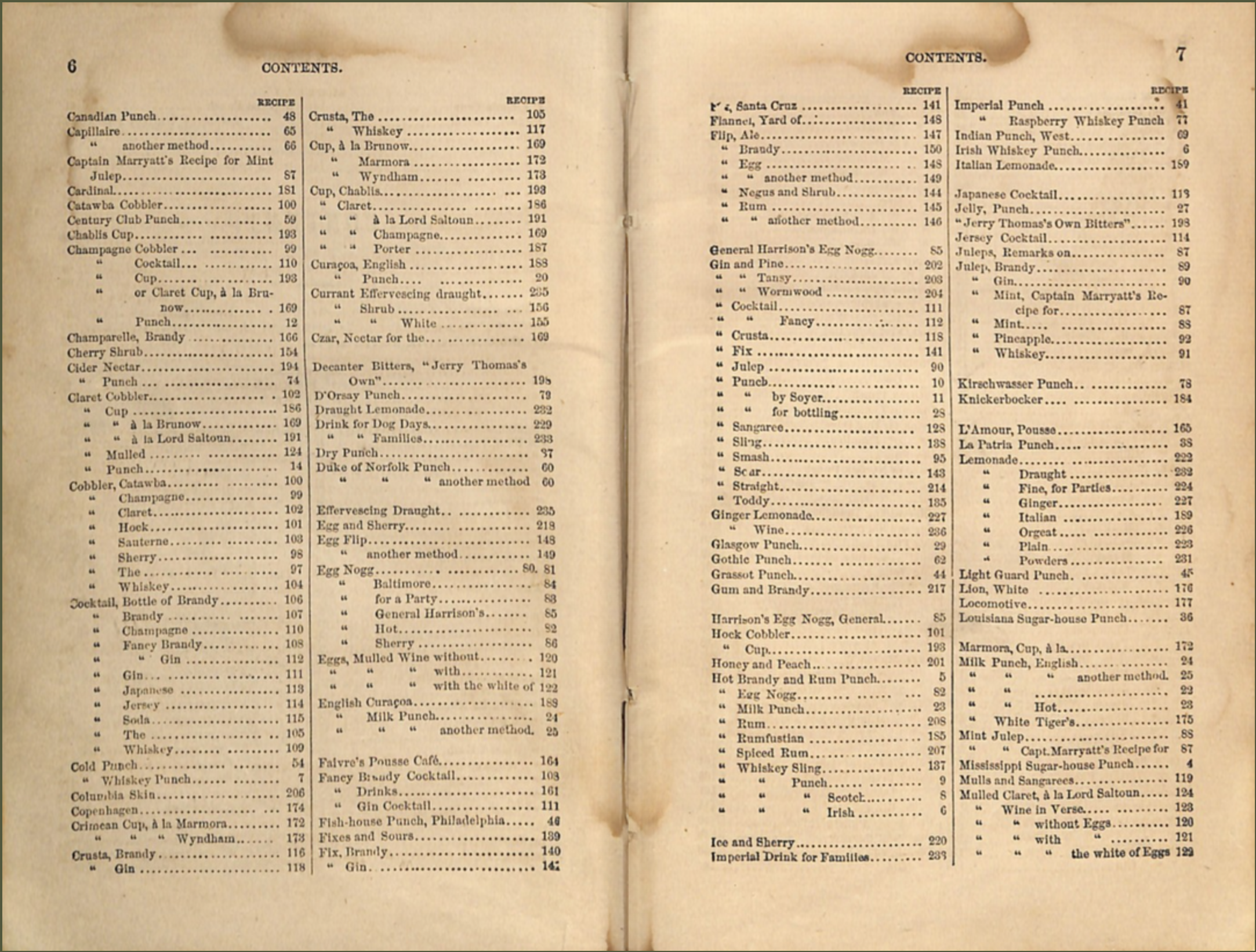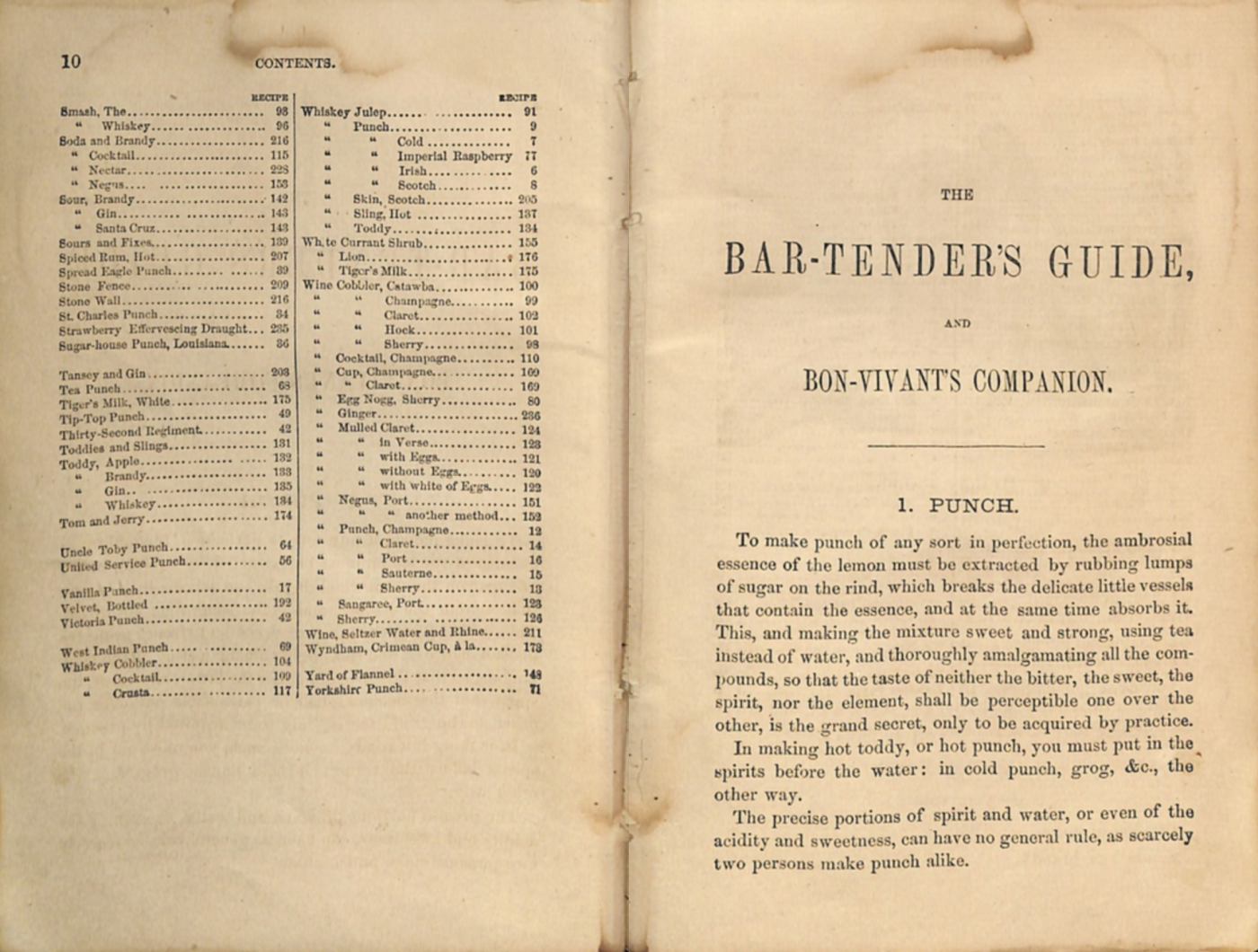 Somewhere down the line, someone said Thomas recorded it first. The rumour spread and was soon taken as fact, as rumours often are. Check out the Tom Collins entry on Wikipedia: the intro says it was Thomas, and in another section, Harry Johnson. Contradictory accounts on the same page – and that, my friends, is the perfect example of why you should never trust Wikipedia as a legitimate source.
It seems that the first actual written instance of the recipe did in fact appear in Harry Johnson's 1882 New and Improved Bartender's Manual, where he lists a Tom Collins (made with Old Tom gin) and a John Collins (made with Holland Gin, aka genever). Thomas' Tom Collins Gin, Tom Collins Whiskey and Tom Collins Brandy appeared in the 1887 second edition of The Bar-Tenders Guide, which was published after his death. Visit the Tom Collins page at diffordsguide.com – you'll see Simon Difford has updated the entry since the 2007 book I pulled from the shelf.