The co-founder of Bangkok's Backstage and #FindTheLockerRoom wins Bacardi Legacy 2019 with his drink Pink Me Up. By Holly Graham.
It's been a big week for Asia, as less than a week after Asia's 50 Best Bars, Bangkok-based Ronnaporn "Neung" Kanivichaporn has put the region on the map once again by winning Bacardi Legacy 2019, serving his drink Pink Me Up – a blend of Bacardi Carta Blanca rum with fresh tomato, orgeat, lemon juice, olive brine and fresh basil.
Neung duked it out against Filippos Tasoulas (Greece), Matías Peredo (Chile), Matthew Wakeford (United Arab Emirates), Chelsie Bailey (United Kingdom), Hiroyasu Okanuma (Japan), Chantelle Gabino (Canada) and Nicole Fas (Puerto Rico) in the Top Ocho, taking the crown in Amsterdam last night. He's also the first ever Bacardi Legacy winner from Southeast Asia.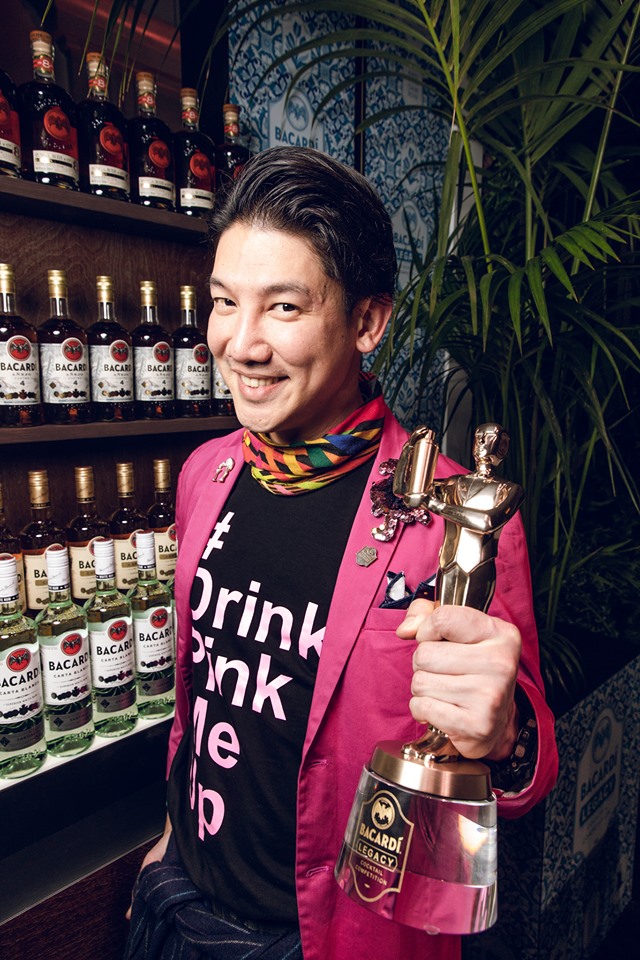 The Top Ocho were judged by industry legend Julie Reiner, Bacardi master blender Juan Piñera and global rum ambassador Ian Burrell who were impressed by Neung's confident and fun performance, as well as his drink Pink Me Up, which they deemed as a drink that has the potential to become an instant classic.
Neung's bar Backstage in Bangkok also clocked in at 20 on Asia's 50 Best Bars 2019 at last week's ceremony, so there's no doubt he'll be celebrating lots this week. When asked what the first thing he plans to do in Thailand would be, he replied, "I'll be going back to my bar to drink Pink Me Up of course!"
Congratulations Neung, you've not only done Thailand proud, but the Asia bar scene as well.