Singapore's Idlewild takes guests back to the golden age of air travel
InterContinental Singapore's newest hotel bar strives to take the focus away from bartenders, giving guests the escapism that drinking once used to. By Holly Graham.
It seems like hotel bars are finally getting the memo: stuffy lounges are out and concept driven destination bars are in. Seven hotel bars are currently on Asia's 50 Best Bars list – with Manhattan at The Regent Singapore in the number one spot – and we suspect there will be more featured on 2019's list to reflect this trend. At Singapore's newly opened Idlewild at the InterContinental, for instance, the team have been given a lot more autonomy than hotels would traditionally allow for.
New Zealand born Andy Griffiths heads up the project, having relocated from Australia where he most recently worked with the Speakeasy Group, overseeing the creative side of the cocktail programmes as group head mixologist. The bar's name is taken from the original name of New York's international airport before it became John F. Kennedy Airport in the 1960s. "Idlewild Airport was the heart of the action in the 1940s, when the first commercial transatlantic flights started to take place," Griffiths explains. "It kicked off this wave of excitement as travellers set off in search of adventures. It really opened the globe."
However – and somewhat ironically – air travel back then was a lot more glamourous. There weren't different grades like economy and business, it was pretty much all first class with passengers travelling in tuxedos or gowns, with roast beef carved seat side. "You wouldn't turn up in your tracksuit bottoms like we do now," laughs Griffiths, "it was an era of luxury, indulgence and design and that's what we're trying to touch on at Idlewild – the golden age of air travel and taking guests on a journey back to those times."
The bar communicates this through several mediums, one being its retro-luxe design. "We're staying away from being overly-themed," says Griffiths, "as walking into a plane cabin would be far too kitsch. It's more reflective of the era and isn't really anything to do with planes or airports. It's just glamorous, decorated with trinkets from the era and not rooted in any one culture – there are lots of nods to Asia, Europe and the Americas."
Of course, the most important way to communicate the theme is through drinks, with Griffiths and the team using flavours and expressions from the era whilst still keeping it contemporary. "We're focussing on the transatlantic route, looking at flavours from Dublin, to Rome, Peru, Portugal, New York state, London, Casablanca, Paris and Mexico City. Each place inspires two cocktails, resulting in a pretty varied menu celebrating the rituals of different cultures around the world."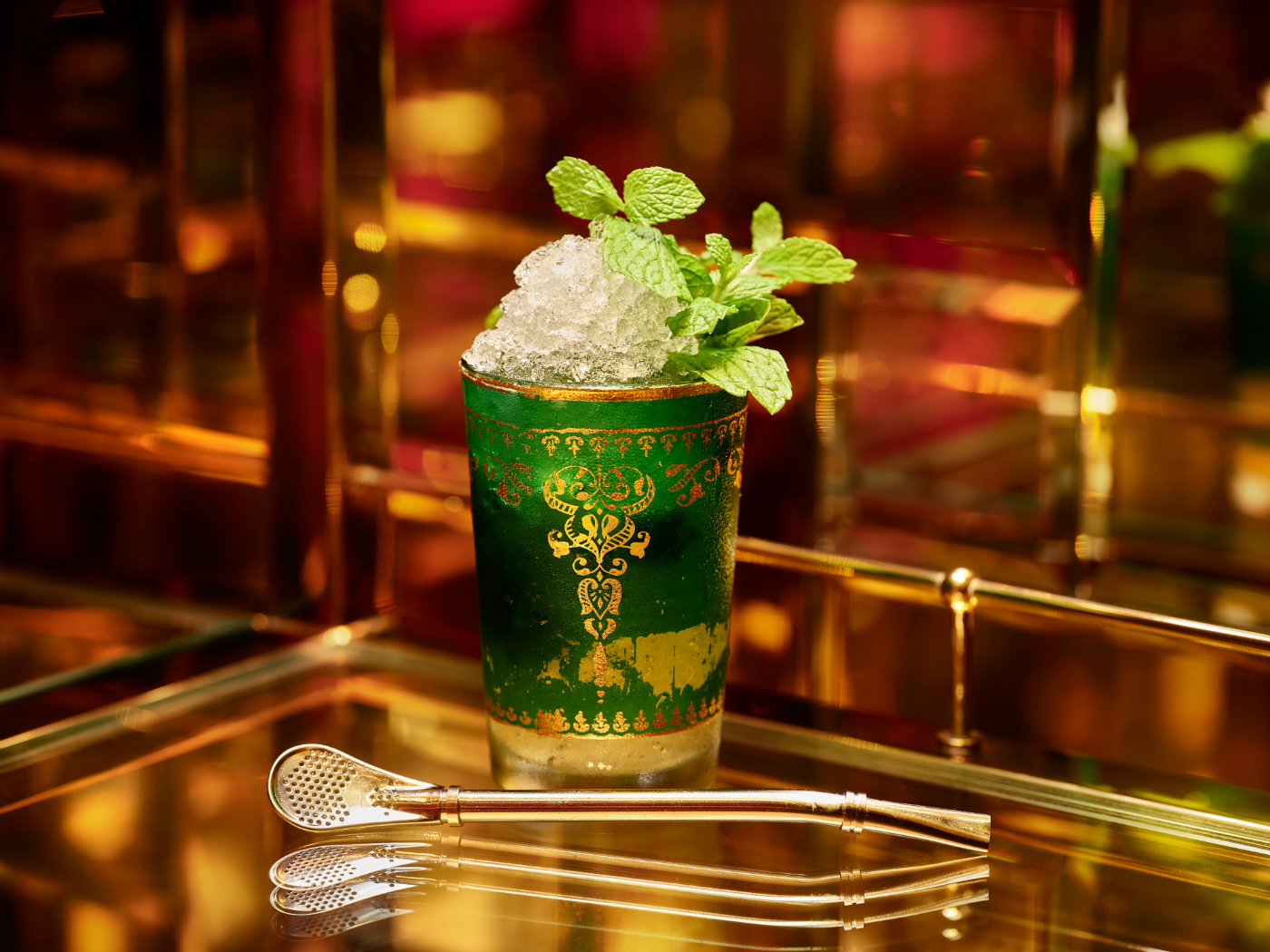 Before Griffiths' bar days, he was a chef, and has always implemented culinary techniques in his drinks. At Idlewild, he and the team have been working closely with the hotel's head pastry chef to concoct what Griffiths describes as "an amazing garnish programme to finish our drinks with a bit more flair." Sustainability is one of Idlewild's focuses too, which makes sense, given the bar has many sources in the hotel to draw from. "One of the drinks based on Mexico City uses tepache made from spent pineapple skins, so we twist that up with a bit of tamarind, pineapple rum and cognac which is served with a miniature taco. The taco shell is also made from spent pineapple which we turn into a leather, spice it up and fill with pickled watermelon rind from offcuts in the hotel. There's lots of stuff we can utilise, so we're continually looking at that."
Griffiths is quick to point out the bar doesn't have "fancy equipment" such as rotovaps and sous vide cookers to create his cocktails, as he believes that lately, people tend to over utilise these kind of things. "I want to really build up the team's knowledge. A lot of these techniques can just be done by hand, and I want them to learn the old school way first."
I feel like the current trajectory is to steer away from idolising bartenders, as it's not always conducive to a good night
Varied as Idlewild's cocktail programme may be, the team are also building a collection of rare and exotic spirits. "We've got epic stuff like Bolivian pisco made from muscat grapes and a bottle of liqueur made by one of the monks that was kicked out of Chartreuse. There are lots of products that I've never heard of or seen before," explains Griffiths. The bar currently has a collection of 50 bottles to start with and will be carefully curating more over time. "We're not interested in vintage bottles or rare whiskies – we want stuff that people can't try in this part of the world."
Idlewild also prides itself on its music programme – they're calling it post-modern jazz – which features a house band with a lead singer that will change monthly. Though the house band will remain the same, rotating singers will organically evolve the vibe and concept, with low key music early in the day and a "funkier party vibe" later in the night. Griffiths thinks a solid music programme – especially one with a band – is increasingly important these days, noting that the revolution of the cocktail and the bartender has evolved. "I feel like the current trajectory is to steer away from idolising bartenders as it's not always conducive to a good night. You need to provide a more holistic experience and add another layer to a guest's night out."
Again lamenting that fancy equipment, Griffiths says: "People are spending too much money on equipment and back of house, but in my opinion, I think the focus should be up front. We want our drinking experience to provide escapism and adventure, and our drinks and music – not us as bartenders – will help transport people elsewhere."
Recipe (Click to view)
Sugarloaf by Andy Griffiths
---
Idlewild InterContinental Singapore, 80 Middle Road, 18896, Singapore.idlewild.sg