This article is sponsored by Proof & Company and Peddlers Gin
The premium Shanghai brand distills rare Eastern botanicals to create a new gin that is stirring up a storm in China and beyond.
Premium Shanghai gin brand Peddlers is the distillation of the minds of Joseph Judd, Ryan McLeod and Fergus Woodward. These three friends share a combined skillset that covers branding, marketing, advertising, finance, law, sales, distribution and f&b – and a mission to showcase the creativity and innovation they've experienced in China.
Inspired by the craft spirits movement worldwide, Judd says the trio also wanted to celebrate their adopted country: "Traveling and exploring around China's diverse regions is one of the best parts of living here. The scenery, culture and food of places like Sichuan, Xinjiang and Yunnan are amazing. They offer unique ingredients that have been used in Chinese cuisine for thousands of years, but no one had combined them in a gin before, so we thought it would be a good way to showcase these regions of China to a more discerning and adventurous type of drinker."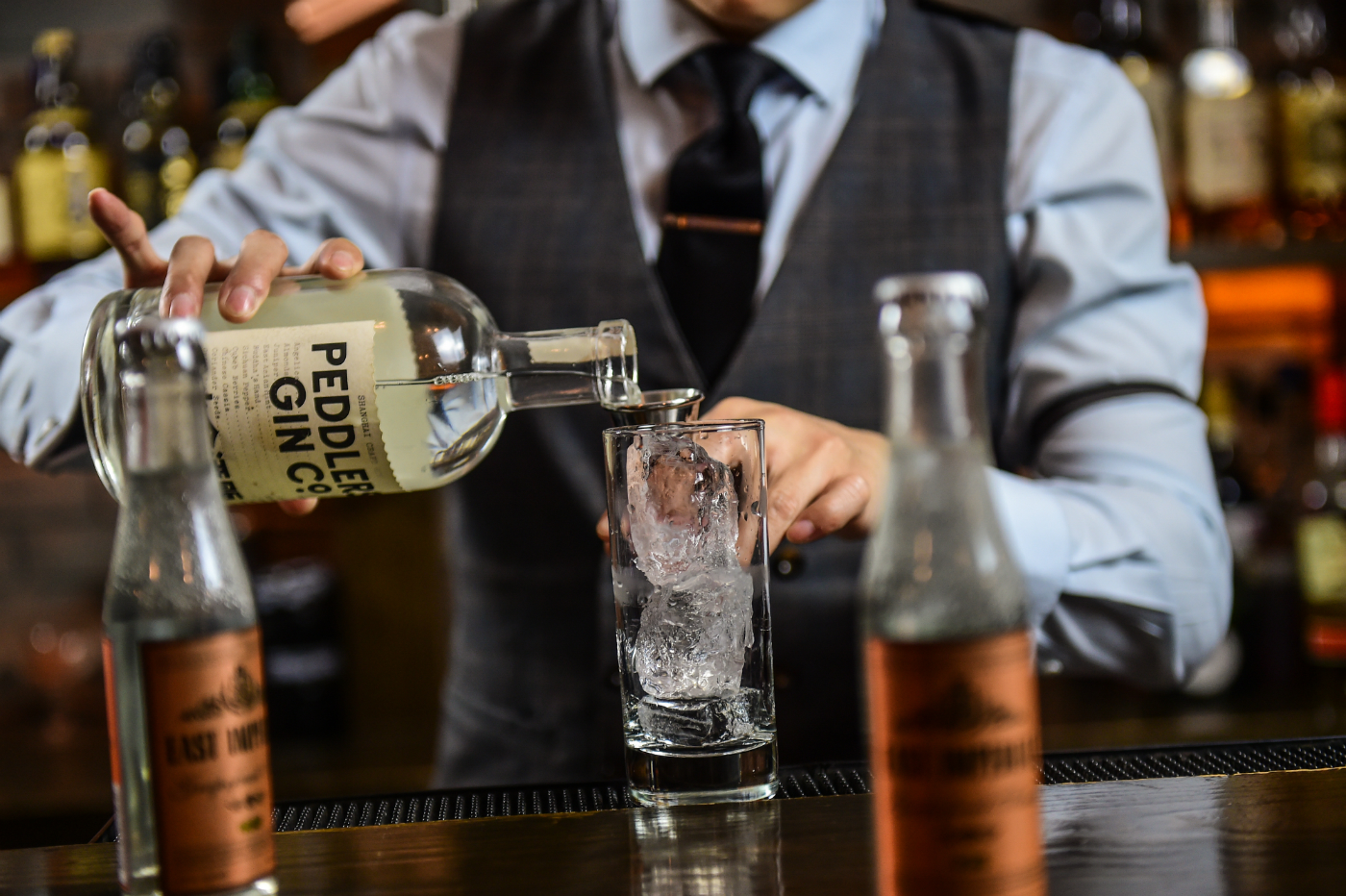 Once the idea was conceived, the three set out to find ingredients and worked with different master distillers, leading to Woodward learning the ropes himself. It took the team around 18 months to get the product to a point where they were happy with it. "You can't rush it too much," says Judd, "because it's important to get the product and story right."
As the spirit developed, so too did the brand. Thanks to the team's collective expertise, the brand, story and design are all created in-house. The name Peddlers was inspired by Shanghai's traditional street culture that still exists today. "Shanghai is iconic as a merchants' hub – people came from all over China to sell different goods like spices, flowers, nuts, antiques and so on. Peddling means to sell a different product and new idea, which is exactly what we're doing," says Judd.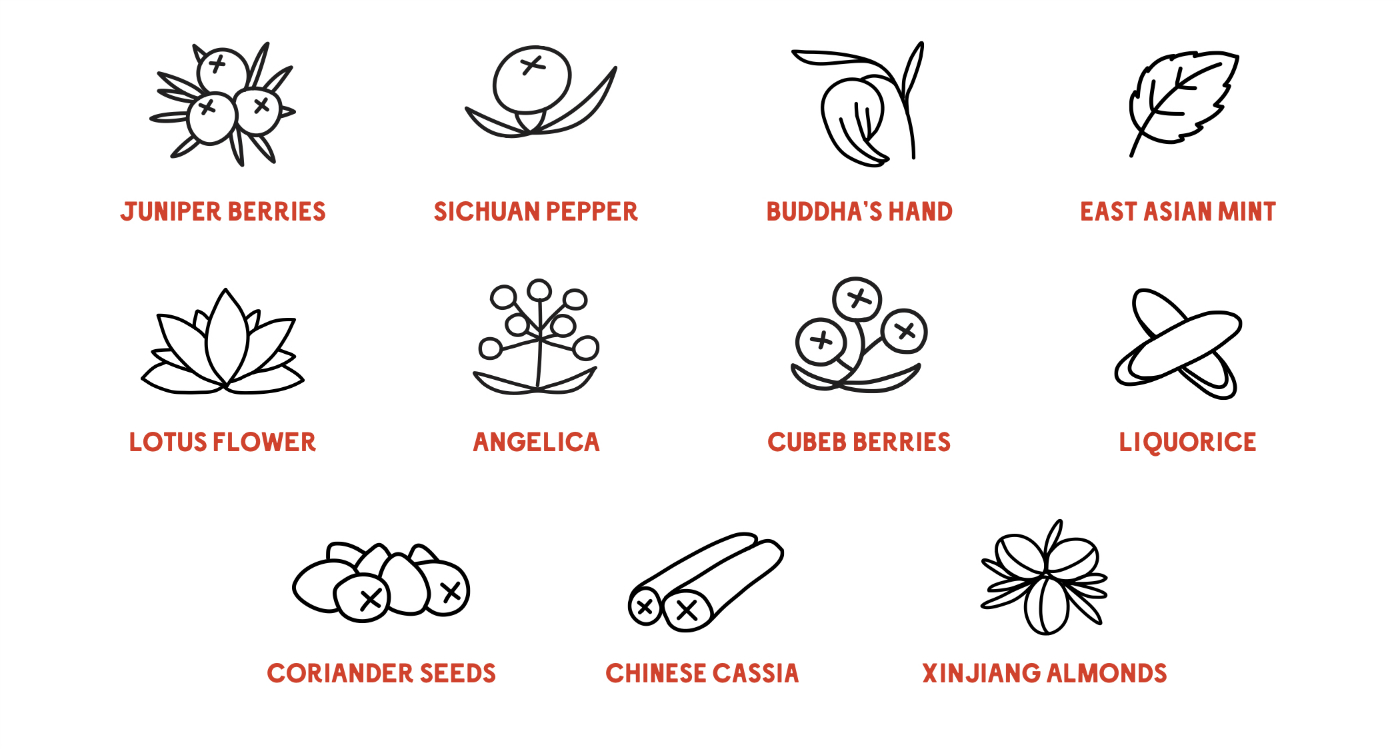 Set on making a gin that's distinctly Chinese, the Peddlers team also knew they didn't want to create something gimmicky, or use Chinese ingredients for the sake of it. This took a lot of trial and error: "We tried to use juniper from China but the humidity wasn't right, meaning it wasn't of the quality we wanted," says Judd. "So we use juniper from Hungary and Italy instead." The team noted that the chosen key Chinese ingredients such as lotus flower, Buddha's hand, Sichuan peppercorn and Xinjiang almonds weren't botanicals that had been used together in gins before. "We wanted our gin to be distinctive. The Sichuan peppercorn and Buddha's hand are really unique, but we feel our 11 botanicals complement each other nicely."
Peddlers is double distilled in a 500-litre copper still. First, the liquid and most of the ingredients are put in the still to macerate for 24 hours, then distilled. On the second distillation, the East Asian mint and Buddha's hand are vapour infused, to capture the fragrances of these delicate ingredients. The spirit is then bottled and labelled on site, with each batch producing 250 bottles.
Peddling means to sell a different product and new idea, which is exactly what we're doing
How does it taste? On the nose, it's pleasantly earthy, with the East Asian mint and citrus from the Buddha's hand coming through as top notes. Of course, the mala ("numbing and hot") spice from the Sichuan pepper is also distinctive. Peddlers' peppercorns are sourced from the village of Qingxi in Hanyuan, Sichuan province, as the team believe these are more fragrant and distinctive than other Sichuan peppercorns. On the palate, the juniper comes through deliberately, then ingredients such as angelica, cinnamon and liquorice begin to rise. The citrus from the Buddha's hand – a fruit that's essentially all rind and very little flesh, meaning it has a stronger, more aromatic flavour – is like lemon combined with rose. A honey flavour also comes through, thanks to the Xinjiang almonds combined with coriander. The almonds are from a mountainous region, meaning the humidity and climate makes them bigger than normal and therefore sweeter. At the end, the gentle oils of juniper and coriander shift back to the mala spice.
 Judd says the reception has been great, especially as the Peddlers team pride themselves on working closely with Shanghai's bars, to add value to what they are doing as opposed to just pushing a hard sell. "Shanghai is growing as a cocktail hub so fast that it's a great place to be. We've really enjoyed working with innovators on the scene here who are mixing some really great cocktails." Peddlers has just recently teamed with Proof & Company to expand its reach around China and beyond, with the next stops likely to be Hong Kong, Macau and Singapore.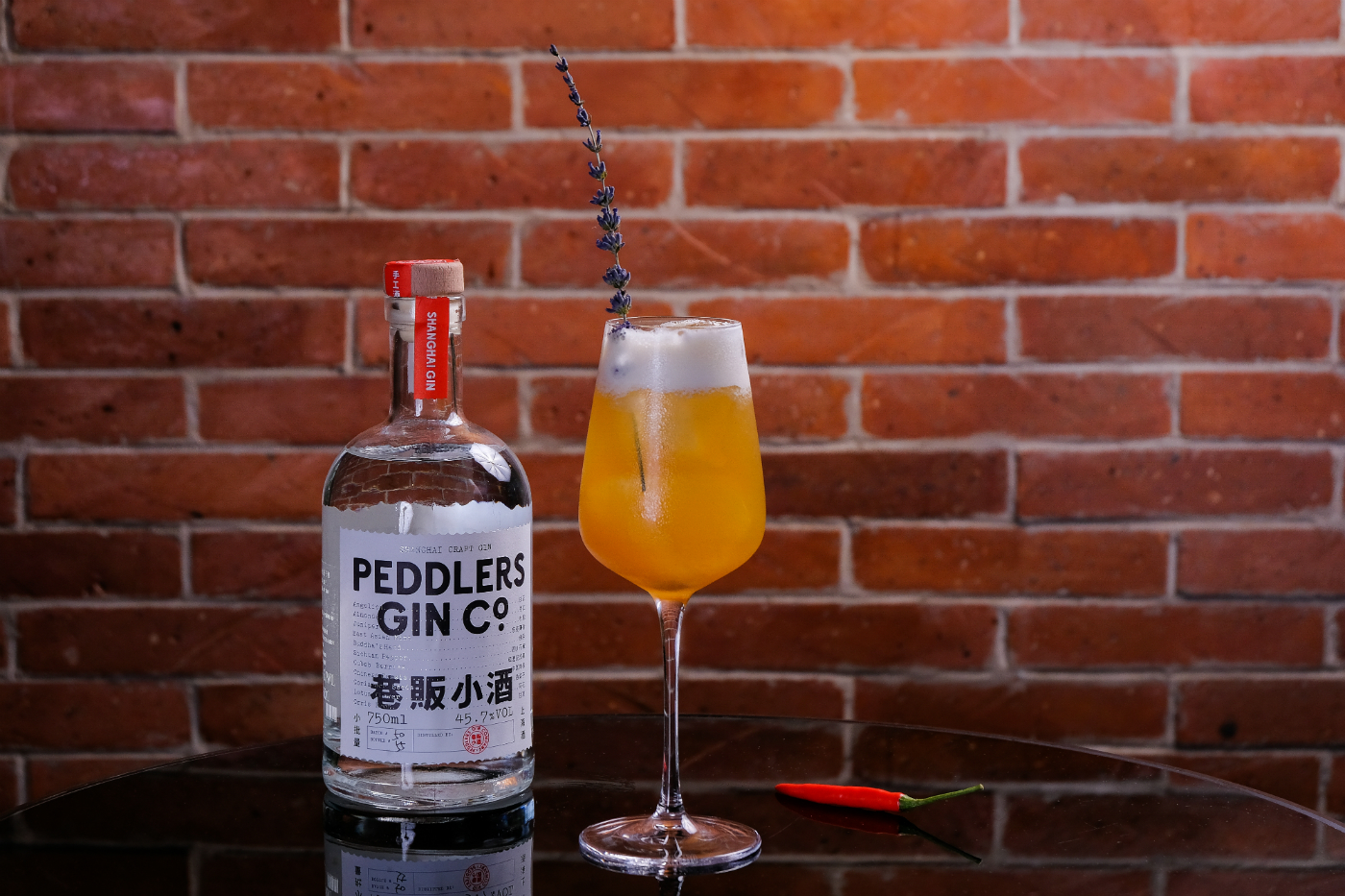 "As a premium craft brand, Proof & Company's ethos is in alignment with ours," says Judd. "They're advocates of innovative craft brands and bar communities across Asia, and their passionate team, including Spirits Evangelists Chris Lowder and Ethan Liu in China, are great to collaborate with." Lowder is equally as complimentary, saying: "China's craft drinking revolution is easily one of the most exciting current developments in the global beverage industry. We're thrilled to be able to partner with the amazing team at Peddlers, as it helps us all to shine a light on the world-class quality of independent spirits now being made locally in China. It's an awesome feeling to share Peddlers with local bartenders and see their faces light up, so proud to be able to make delicious cocktails with a bottle marked 'Made in China.'"
As part of this new China-wide partnership between Peddlers and Proof & Comapny, bars across the country have been creating some Peddlers-based cocktails of their own (click below to see these recipes):
Pineapple Turbulence by Colin Tait (Shake, Shanghai)
East meets West Collins by Jamie He (Janes + Hooch, Beijing)
Lai le Lao Di by Marz Ma (Gaga Chef, Shenzhen)
With Peddlers set to arrive in Hong Kong by the end of 2018 and Singapore by early 2019, this pioneering Chinese gin brand isn't stopping there. It was recently awarded a gold medal at the CWSA, based on a blind tasting by industry experts across greater China, and the gin was nominated in the innovation category at DMBA 2018 – where the team also presented the award for Asia Bartender of the Year. With a barrel-aged Peddlers due out in a few weeks, and a navy strength gin and limited edition bottlings in the works, the team believes the next real challenge is educating audiences less familiar with gin. "We believe there's a big opportunity for craft spirits in China, including gin, so for us it's about getting the word out there to the right people and telling our story."
---
To order Peddlers Gin, contact any Proof & Company offices listed on proofandcompany.com