But the five heavenly (bar) kings will be back. By Natasha Hong.
In another sign of how fickle things in the f&b world can sometimes be, Find the Locker Room has announced that it'll be closing shop at the end of December. This news comes just shortly after they were heralded as one of Asia's best new openings in 2017 in our yearly recap.
Housed on a side street in the Thonglor nightlife quarter, the unnamed speakeasy opened to much fanfare in July thanks to its high profile supergroup of owners Hidetsugu Ueno (Bar High Five, Tokyo), Colin Chia (Nutmeg & Clove, Singapore), Nick Wu (Bar Mood, Taipei), Ronnaporn "Neung" Kanivichaporn (Backstage Cocktail Bar, Bangkok) and Chennarong "Janz" Bhumichitr. It's Find the Locker Room moniker stuck after punters had to get past a bank of metal lockers in a back room of seafood restaurant, Ping's Kitchen, to enter. In the five months since its opening, principal bartender Suchada "Fah Beer" Sopjaree and her team have built on that initial buzz, garnering the bar plenty of press coverage and industry love in Bangkok.
With the landlord selling the prime piece of land that the complex that Find the Locker Room is housed in, they'll have no choice but to vacate on December 31.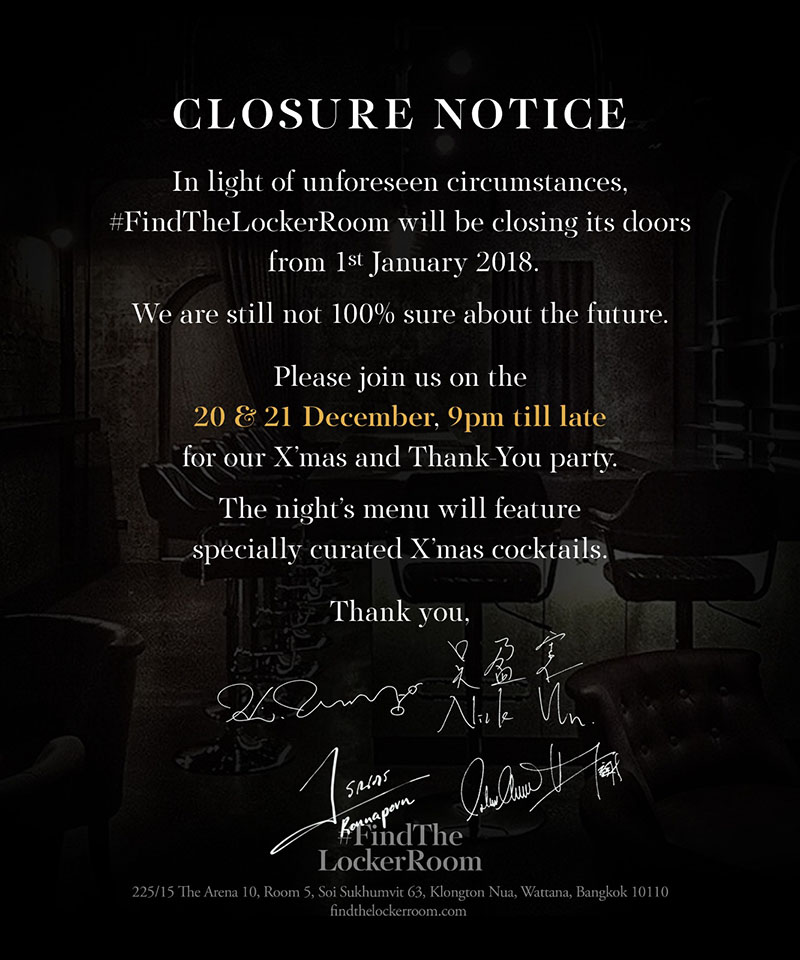 In the meantime, the bar's team of six bartenders will continue to be retained by the bar to work in other venues run by the bar owners' partners. Also on the cards for them, training programs at the bars run by its owners, with Sopajee planned for a two to three week stint with Ueno-san at Bar High Five in Tokyo, another bartender going to Wu's Bar Mood in Taipei, and some others to Chia's Nutmeg & Clove in Singapore. "Everybody will get some cross-cultural training to help them get a more international mindset," says Chia. "And we're going to make sure they get more international exposure as a result too."
For now, Chia says that the team of five owners are looking to continue their partnership, and will be using this break to decide what their next steps will be. Watch this space for more updates on what the fab five will do next.