Stone Hill's Cocoa Cider. By Natasha Hong.
What is it? Nope, it's not balsamic vinegar, though it's packaged like it. Stone Hill is obscure to the drinks industry. The Vietnamese farm and makers have been plying their trade in skincare, essential oils and cocoa edibles sold in lifestyle stores across the country, and the making of their Cocoa Cider was an experiment at the farm that's giving us one more reason to take note of the drinks – craft beer and ruou de included – coming out of the country. Maker Loc Pham found himself playing winemaker when looking a way to save highly perishable cacao juice, and even though 'cider' is not an entirely apt name for this fermented drink, Loc decided on it as "it's a friendlier name that more closely reflects its flavour".
How is it made? "Southeast Asian cacao beans are known for their high acidity, and it's packed with fruity and floral flavour notes in chocolate," explains Loc. "But too much acidity can overpower the other flavour notes and can make the chocolate not so good to eat. So at Stone Hill Farm, we control the acidity levels of dried beans by pressing the beans under a hydraulic press to lower the overall sugar content and acidity in them."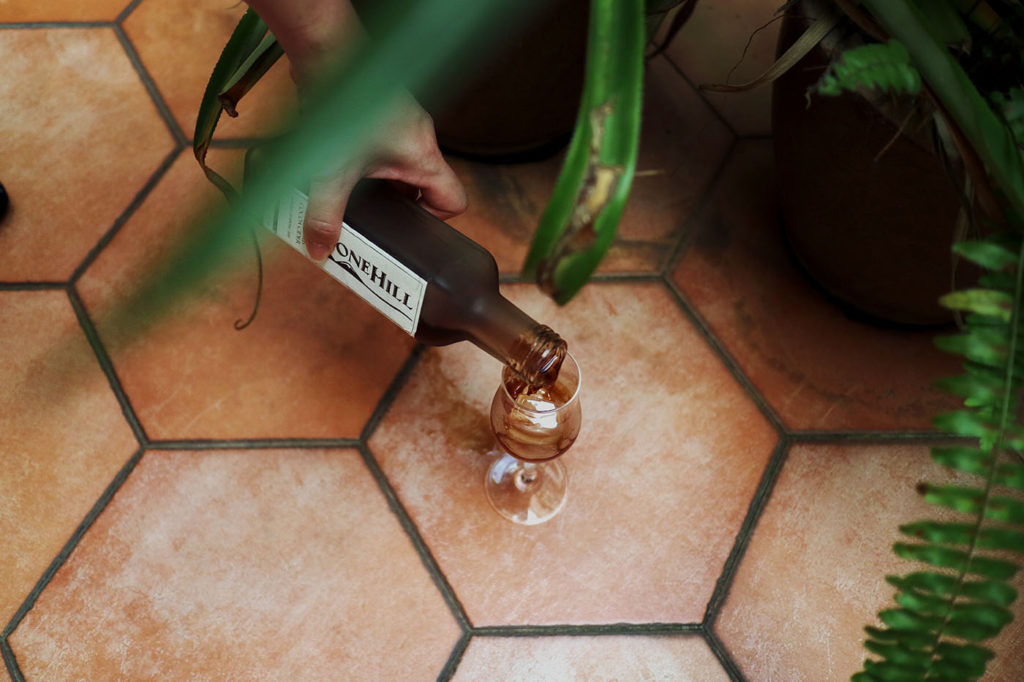 His family and team collect the juice at their Dong Nai farm in South Vietnam to drink, and Loc, looking to extend it beyond its six-hour shelf life, experimented and settled on a laborious process that takes more than a year to complete, from pressing to bottling.
He first ferments the juice to 11 per cent abv with Vietnamese traditional rice wine yeast, before leaving it to mellow in plastic vats for 12 months. "The cacao juice absorbs the scent of whatever it's contained in. We tried various types of clay and wooden barrels and the final product was something else entirely," explains Loc of the choice of aging vessel. Stone Hill's almost-organic farming operations means that unlike other local farmers, they don't have to boil out any pesticides or other chemicals before fermentation, which Loc says "also reduces the potency and eliminates a lot of unique natural flavours present in the juice".
To get enough juice for a 250ml bottle of Cocoa Cider requires extract from around 13 to 18 kilograms of cocoa pods, so you won't be finding this in the booze shelf at your supermarket any time soon.
What does it taste like? We almost passed up an opportunity to try this drink. We spotted a bottle of it at the L'Usine multi-concept store in Ho Chi Minh City but wasn't too taken by the packaging and the disconnect between its cider categorisation and dark hue. But when it was recommended by BiaCraft's Tim Scott – co-owner of one of Saigon's, if not, Vietnam's most exciting tap rooms – we learned another lesson about not judging a book by its cover.
Pouring it over ice throws up a powerfully savoury nose with whiffs of sherry with a side of marmite. That same oxidised and honeyed note of fortified wine carries through on the palate, with additional notes of prune juice and overripe tropical fruits. But it stops short of overtaking the palate with cloying sweetness like a PX would, for example. The finish is dry, and continues to wind its way across the palate with flavours of nuts, stone fruits and a light touch of honey.