Three bartenders hack the cheese tea into their cocktails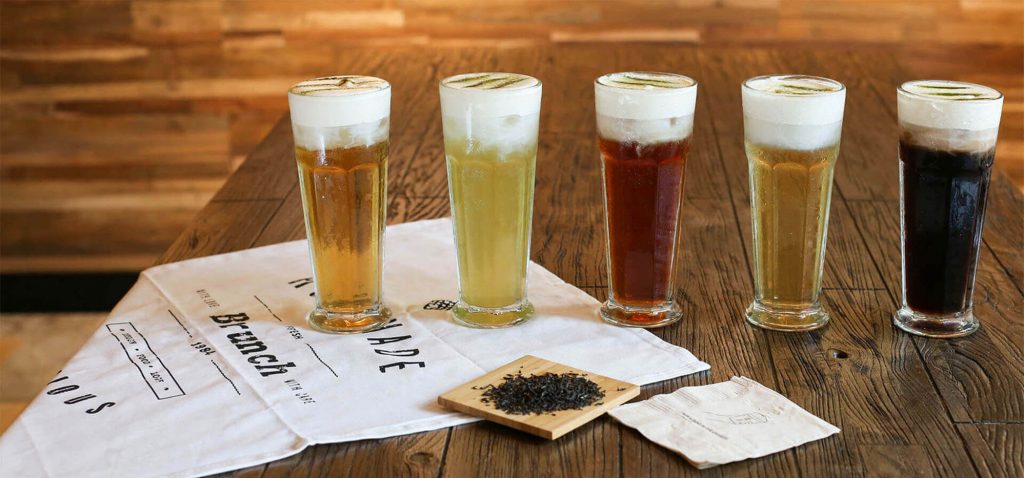 1/4
Everyone's favourite beverage gets boozy. By Rachel He.
We can't imagine standing three hours in line just to buy a drink – but that was what people did when Hey Tea, a beverage franchise from Shenzhen, first popped up in Beijing and Shanghai this year with their wildly popular cheese tea creation. Shanghai's now home to seven Hey Tea stores to get your fix, but you'll still need to wait upwards of 30 minutes – and that's just on a weekday – to get a cup.
What is cheese tea anyway? Sounds like a really odd combination of flavours to be putting in a cup, much less your mouth… And why are some bartenders even making a cocktail, borrowing it as inspiration?
When served, it's as literal as it sounds. Tea, served hot or cold, with or without ice sits under a float of thick, cheesy foam (a combination of milk, cream and cheese). To enjoy it properly, drinkers take heavy lugs from the lip, making sure to get a good dose of fragrantly bitter tea, as well as the sweet, creamy and a touch umami foam with each sip. For most Chinese people who aren't accustomed to eating cheese, pairing the two made the experience fun and less intimidating. Hey Tea made the drink the phenomenon it is, but at stores like A Little Tea and Gong Cha have also ventured into creating their own versions of the drink, with much less queuing necessary.
So, with bartenders getting their inspiration from just about everywhere, it only made sense that they'd one day turn their eye to the wonderful world of the cheese tea. Here, we spoke to three bartenders from Shanghai – Sunny Xiao from Chic Tail Bar, Zero Chen at The Union Trading Company, and Choni Song at The Cannery – to learn about their affinity for the drink, and how they hacked their own versions of the drink for their punters.