Bangkok bartenders celebrate their body art with Giffard's Spirit of Art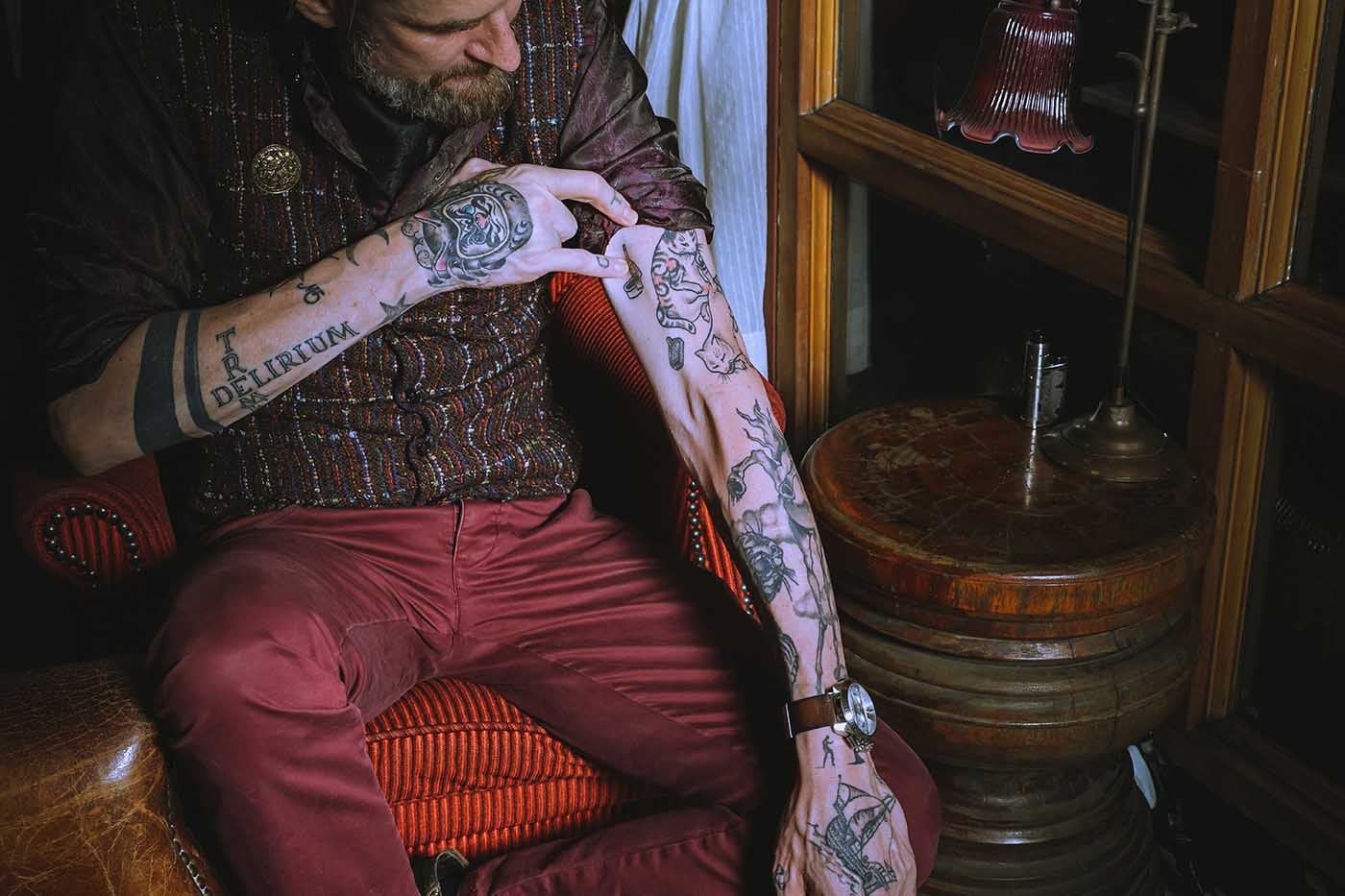 1/12
This article is sponsored by Giffard.
The French liqueur brand is putting the Thai industry's tattoos under the spotlight.
Bartenders and body art. This meeting of creative energy was first celebrated by Giffard back in 2015, when it commissioned a book titled UK Tattooed, in which inked-up British bartenders showed off their twin loves of mixing drinks and living art. Soon after, Giffard did the same for Singapore and then last year turned the camera on Hong Kong (see our Facebook photo album here).
Now Giffard has shifted its gaze to Bangkok. Shot by Thai photographer and Patcharaporn Komolpis and videographer Soracha Anghin, the Giffard Spirit of Art Bangkok edition has been truly inspired by the diversity of the artistic culture that can be found within the city's vibrant bar scene. And today, on Giffard's own Facebook, is the last day telling each of the 11 bartenders' stories through portraits and video.
SPIRIT OF ART – TATTOOED BARTENDERS – BANGKOK SERIES

SPIRIT of ART – TATTOOED BARTENDERSBANGKOK SERIESSpirit of Art by Giffard was first launched in the UK in 2015, followed by Singapore and Hong Kong in 2016, Asia's vibrant cocktail scene. This year, we are adding two dynamic and creative cities, Kuala Lumpur and Bangkok.In Bangkok, we have followed 11 bartenders behind their bars, from the most creative cocktail bar to the best bartender or the fresh new opened bar in town. They shared with us the art of creating cocktails together with the art of tattoos, reflecting their personal expression, stories and passion on their skin.Follow our Bangkok series starting from tomorrow, here on our Giffard Asia Facebook page and Instagram: https://www.instagram.com/giffardasia/ For this unique project, a special Spirit of Art drink menu will be available in each bar until 23rd December.- Backstage Cocktail Bar- The Bamboo Bar at Mandarin Oriental, Bangkok- Havana Social- Highball Bangkok- Iron Balls Distillery- Rabbit Hole- Sole Rouge- Tropic City- Wild & CompanyThank you Brand Connect Thailand team for Amazing support to Giffard !

由 Giffard Asia 发布于 2017年12月5日
At DRiNK we've created an abbreviated version of each of the interviews you can watch on video, to accompany our selection of their portraits. Click through the slideshow to see… from homemade tattoos to major pieces, encompassing samurai, ha taew and apparently quite a few cats (lions and domesticated!), the range of creativity is as broad and diverse as the bartending community itself.
If you are in Bangkok you also have the chance to taste each of the bars' Spirit of Art menus, until Saturday, the 23rd December. At the next Bar Awards in Bangkok (February 21 to 25), Giffard will host a Spirit of Art event to celebrate the bartenders and their skin art.
Giffard's lenses turn to Kuala Lumpur next. Stay tuned for the launch of the city's own Spirit of Art campaign in February.
Giffard is distributed in Thailand by Brand Connect Thailand. For more from Giffard, check them out on Facebook and Instagram.