Hong Kong's proposed alcohol ban: Was it just a warning?
Hong Kong's leader's proposed ban on alcohol has left the bar industry scared, confused and asking, "what's next?". By Holly Graham.
On Monday afternoon (March 23), Hong Kong's f&b industry was left rattled after a press conference held by the SAR's chief executive Carrie Lam.
Among other measures to control the spread of COVID-19, Lam announced the government would amend the law with a ban on alcohol sales that would affect over 8,600 bars, clubs and restaurants holding liquor licences. Without any further clarification, the bar industry was particularly affected, wondering if their venues could remain open, if they would have takeaway or delivery options or if the government would be providing any relief packages.
Lam noted that restaurants would still be able to serve food, but her archaic reasoning for banning booze was that "in bars, people sometimes get intimate after drinking, and this will raise the risk of cross-infection". 11 confirmed COVID-19 patients had visited or worked in the city's party district Lan Kwai Fong, but rather than enforce quarantine measures or take other action, Lam instead appeared to point fingers at the f&b industry.
While the collective feeling among Hong Kong's bar industry is that of support in containing the spread of the virus, many are now confused and worried, not knowing whether to remain open or closed. It appears, however, that the damage has already been done, with most bars empty and some choosing to close.
In an industry reeling from months of protests, COVID-19 was another unexpected blow, and the current lack of financial support means a city that houses some of the world's best bars is on the brink of changing forever.
By Tuesday, the industry had rallied and The Hong Kong Small and Medium Restaurant Federation secured thousands of signatures opposing the government's plan to ban booze without assisting the venues financially. The opposition also called for clarification; such as if the ban were to go into effect, when it would happen, how long it would last, etc. It also called for a complete closure of f&b outlets – not just a ban on alcohol – with compensation to cover salaries and rent.
Later that day, the Hong Kong government website stated:
On the proposal to legislate for the temporary prohibition of the sale and supply of alcoholic drinks by restaurants, bars and clubs with liquor licences, the government spokesman said that, as pointed out by the chief executive in her response to the media this morning, this is a very difficult issue and the government is willing to continue to listen to the views of the industry and the community for further study.
A small relief for the industry, but the lack of faith in the government still presided.
Come Wednesday, medical experts and government advisors suggested following in the footsteps of other countries by banning public gatherings, limiting business hours and halting public transport, and it was confirmed by several news outlets that banning the sale of alcohol in bars and restaurants faced legal and political difficulties, with lawmakers questioning how effective a booze ban would be.
Those in f&b were beginning to call for measures similar to Singapore, which include spacing out groups in venues and halving capacity – which some venues had already done. Many outlets have their staff wearing masks, carrying out thorough disinfections, temperature checking at their doors and asking guests to sign a declaration that they are in good health and haven't travelled within 14 days.
Now, several days later, many suspect Lam's proposal was more of a threat to prompt the industry to act, with the South China Morning Post (SCMP) reporting her own advisers are questioning if the ban made sense, and that she already has the power to put the ban into action but hasn't yet done so. The report also stated that a medical expert said the proposal had "unnecessarily complicated what should be a straightforward decision about public health".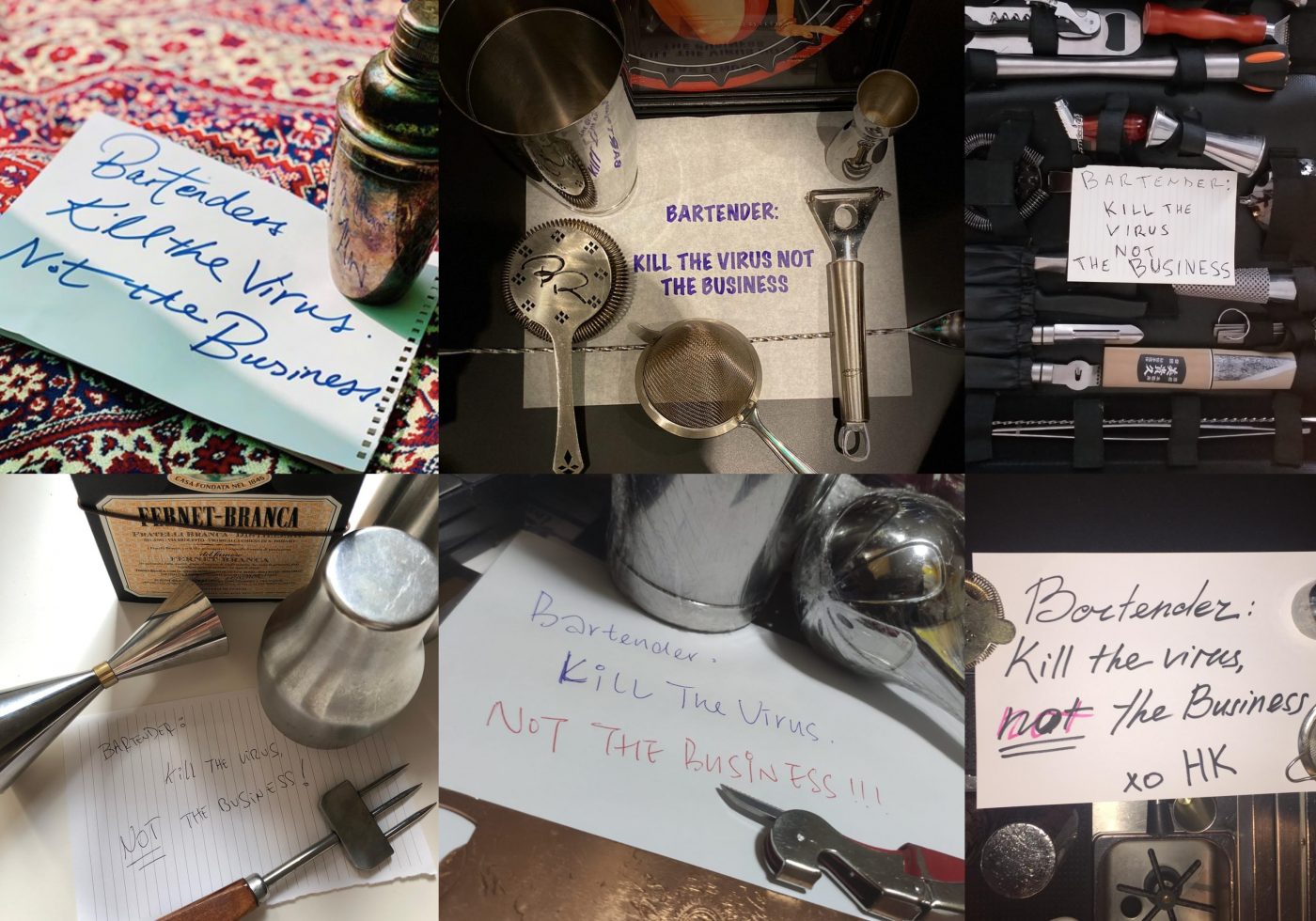 While the community understands the need to battle the virus, many in the industry are ready to battle in court, but the consensus is that the chief executive should act hard and fast, rather than skirting around issues and unfairly targeting the f&b industry. Hong Kong's bartenders have also called for their community and other bartenders to show their support by posting a note reading: "Bartender – kill the virus, not the business" next to a bar tool in their bars and resharing on social media.
As of now, the afternoon of Thursday, March 26, Hong Kong's bar industry still hangs in limbo with many wrestling with staying open or not, seeing profits fall drastically regardless. Cat Hou, chairwoman of the Bartenders and Mixologists Union of Hong Kong informs DRiNK:
"We are seriously considering doing a judicial review, but the problem is we don't know which law the government will use to impose the ban, plus the courts are currently closed due to the virus. When and if the law is enforced, we will seek legal advice to file the judicial review as soon as possible. We are frustrated, but we are trying everything possible to oppose it."