Here's how Tony Conigliaro is breaking all the rules again
London's non-conformist cocktail contortionist on telling stories with flavour, and why his new venue Untitled is overturning every convention of the bar but one. By Alexander Barlow. 
Tony Conigliaro can't remember the last time he went to any sort of industry thing. "It's weird, there's this definite trend in London to know what everyone else is doing, to be part of a dialogue," he says, at the bar of his latest opening, Untitled. "But I've quite consciously excluded myself from all that. You know, the awards, the lists – honestly, I don't care," he shrugs, vacantly.
Nor do the team at the Drink Factory, he adds, the nerve centre for drink development he founded in 2005. "It's not from arrogance. Or that we don't like anyone in the industry – we do," he insists. "It's just, we've slowly trained ourselves to live inside a bubble, I suppose. And what we've learned from inside that bubble is, I think, some very new ways of thinking: how ideas can emerge, form and then morph. And through that collective thought process, we develop some very, very weird stuff," he continues, cautiously. "And you can only really do that, I think, if you cut out all the noise."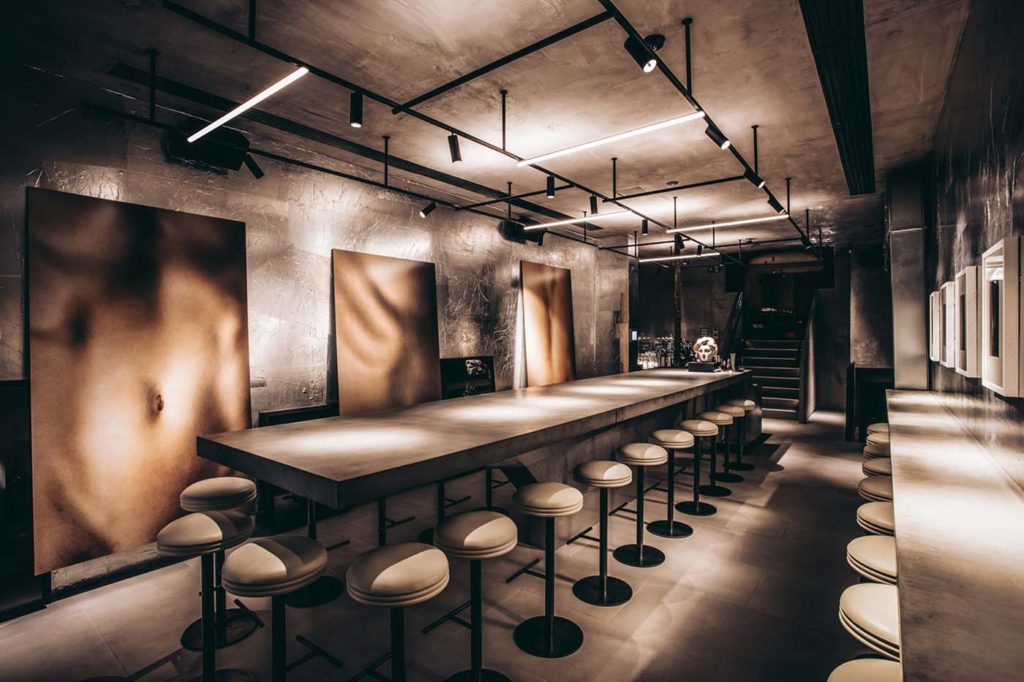 "Weird stuff" might not be too unfair a description of the cocktails at Untitled – especially for anyone unfamiliar with the concept drink-craft at 69 Colebrooke Row, Conigliaro's first bar, where the drinks such as Terroir can mean ingredients as unlikely as distilled clay, lichen and flint. Untitled is an evolution of the form that has seen Conigliaro enter a creative class mostly of his own, and, with even more idiomatic, abstract cocktails such as Violin, Sicily and Snow, it is his most experimental bar yet.
"Each drink has a kind of scenario we work back from," he explains. "So, for Snow, it was us thinking, 'What if we could create that first, childhood taste of snow?' For Violin, it was, 'What would a Violin taste like if it had flavour?' Essentially, we're telling stories through flavour." Some were much harder to recount than others. Snow, it turns out, took three years of development. "We went through around 20 variations," says Zoe Burgess, Untitled co-founder and the Drink Factory's head of research. "Eucalyptus, chewing gum – we tried everything to give it that metallic, cooling effect of snow."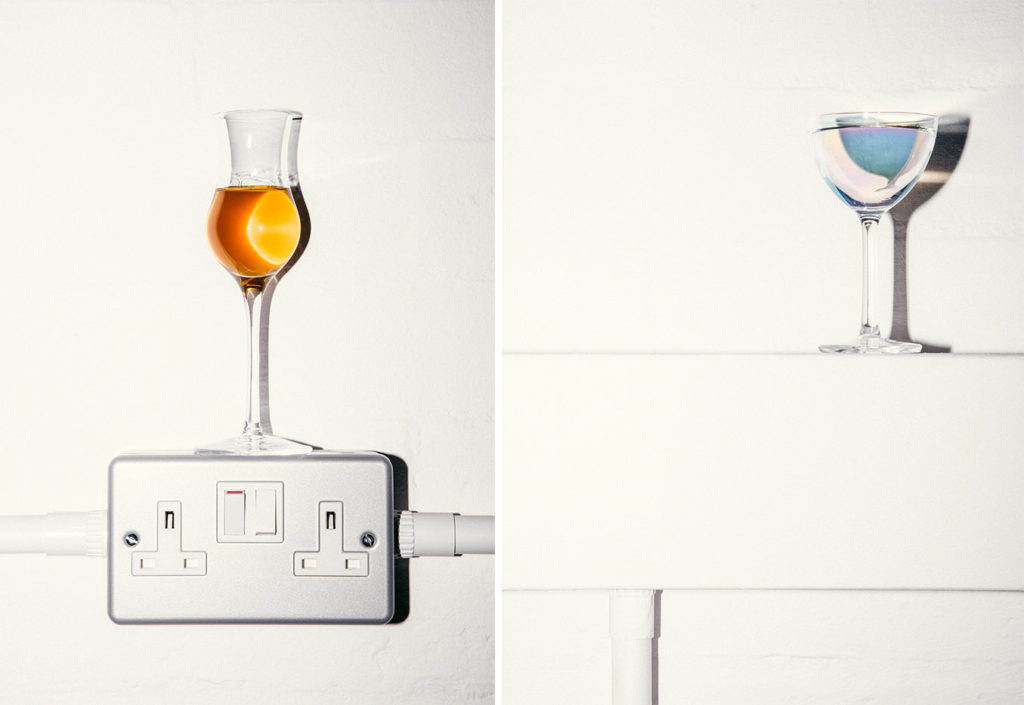 But nothing worked, until earlier this year, a "bizarre breakthrough," says Conigliaro. "I was in Norway and got this message really late one night with just one word: 'enoki'. And I knew exactly what it meant. So I'm dancing around the room thinking, 'That's it! She's cracked it.'" And she had: a mix of distilled chalk, clay, flint and white enoki mushroom, Snow is now one of Untitled's bestsellers ("strange, ephemeral – a drink that doesn't just capture the flavour of [snow], but the emotional memory of it, too," said The Financial Times).
"It's like a Rubik's Cube that suddenly completes," he says. "That's what we like to do, I guess: set ourselves a puzzle – and solve it." Still, for the guest at least, one part of each drink's puzzle is missing: base spirits are not listed on the menu. "Zoe had a conversation with an art historian and she said, 'You know, the spirit is the most boring, unimportant thing.' And she's right: with the snobbery out there, it's just a restriction. So we wanted to remove that so we could offer something new, and challenging." It's working: a mix of citrus, verbena and orange blossom, Sicily is one of the bar's most popular orders. "But it's also the one we've had returned the most," says Conigliaro – which is fine, "Because, without those restrictions, people have been quite freewheeling in what they're willing to try."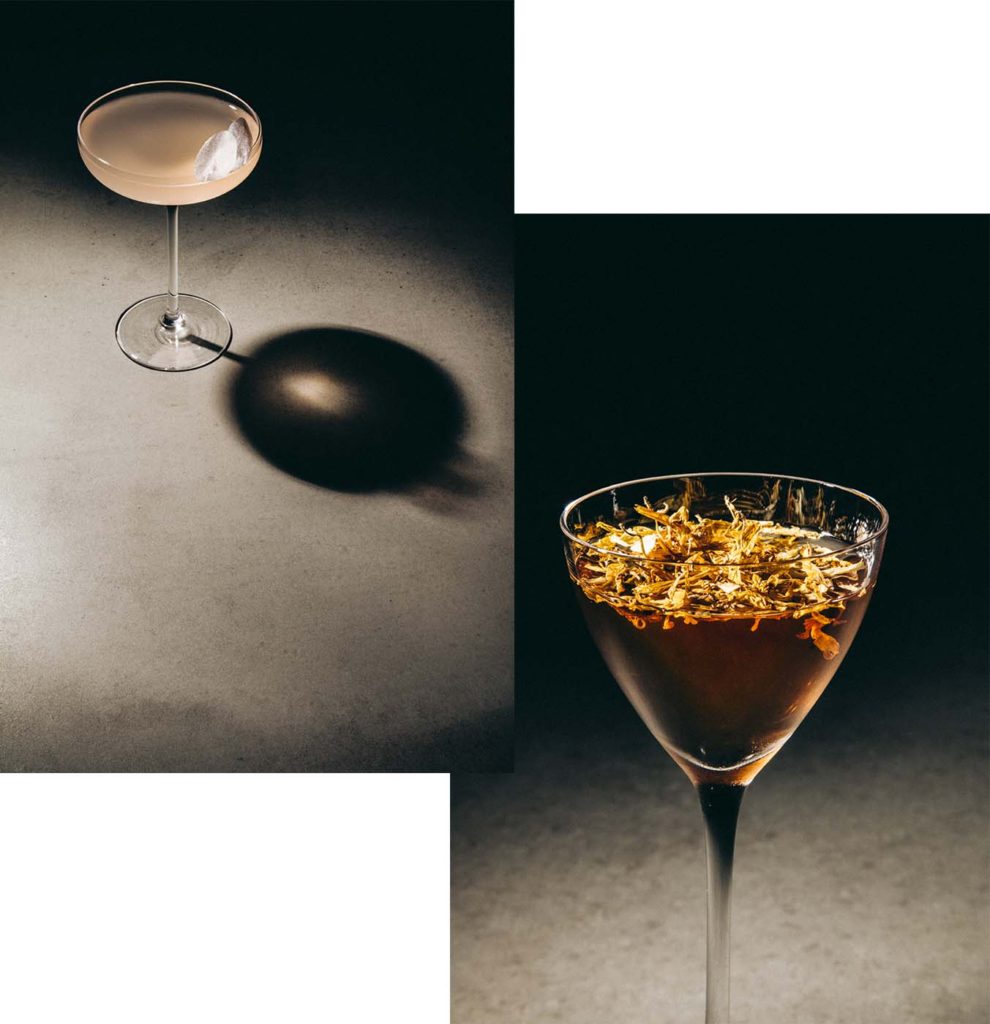 Another example, Violin: a combination of distilled oak, pine, beeswax, benzoin and black pepper. "And people say, 'Wow, this is incredible, whisky… What did you blend the whisky with?' And I let them finish and I say, 'Um, it's not whisky, it's the same as Sicily – it's vodka.'"
The liquid isn't the only way Untitled attempts to overturn the conventions of a cocktail bar. There is no bar, in fact – not in the traditional sense, anyway. Instead, a stark, brutalist kind of anti-speakeasy with tin-foil walls and white spot lighting is centred on a thick, five-metre concrete table with bartenders at one end working from a small, table-height service area. Conigliaro explains the set-up is as much about curating an open, collaborative space as it was about reconfiguring the relationship between bartender and guest. "For a lot of people, you go to a bar to be part of a community. And far too often, the bartender is excluded from that, by a barrier, by a wooden bar, whatever. But also, I think there's this level of ego that has upended the relationship a bit; you know, this idea that you go to a bar to worship the bartender," he says, wincing. "We wanted to re-adjust that and make it more how it should be – equal."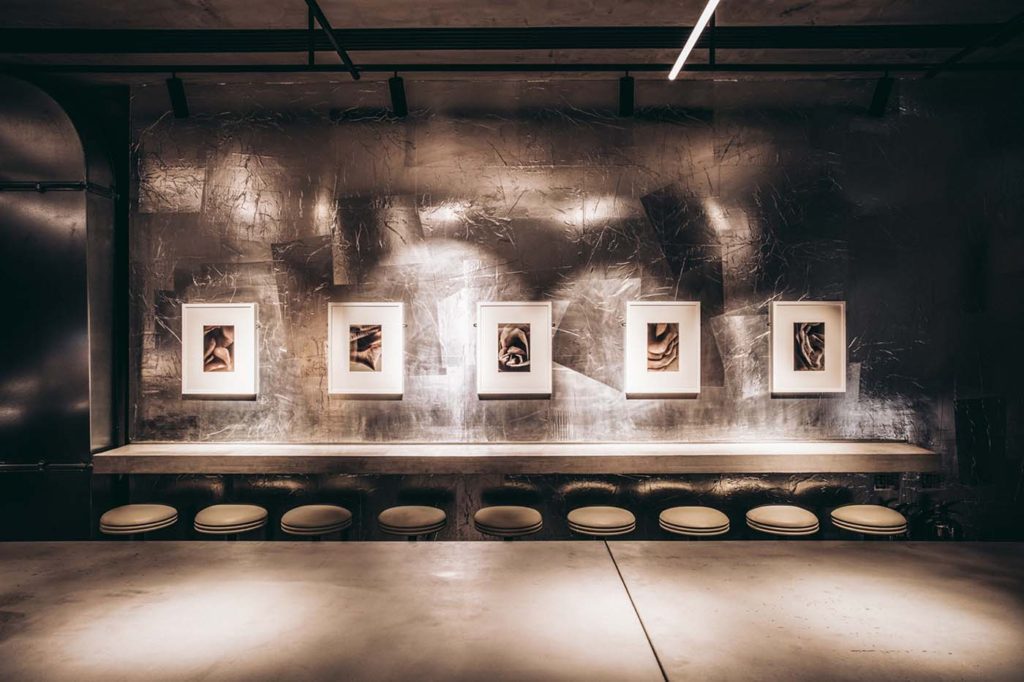 Maybe not a bad idea, especially in a bar that, even at its most sincere, has the potential to come off as a bit too self- regarding, a bit too challenging, a bit too up itself. But London, Conigliaro reckons, is now at a stage where it's ready for new provocation. "I think it's important to present drinks that some people find difficult, I do. You go to some bars and it's just a list of crowd-pleasers. And I could quite easily do that. I could quite easily serve drinks everyone knows, or variations that they know, or drinks with balloons hanging off them. Sure, it's a money-maker. But it's also so dull," he says. "I don't want that. I want a challenging, interesting bar that offers experiences that people come back for."
And here's where Conigliaro's non-conformist ethos might finally align: for all the alchemy and artistry, ultimately, his success is anchored in his ability to keep craft and customer on an even keel. He knows that to function, Untitled, like any bar, still needs to be one thing: a really good night out. "I mean, yes, we spend hours and hours on these drinks. But I promise you, we spend just as many conversations about our customers as we do on what snow bloody tastes like," he laughs.
That's another reason he doesn't court industry approval. "Because if you're striving to be on a list, if you're angling for an award, then, well, you start to take the focus away from the customer." Not many bars have stayed as consistently busy as 69 Colebrook Row – now in its ninth year, he says. "And people say, 'Oh, it's all about the drinks.' Well, it's not. And it's never been," he says. "It's about the customer," he whispers. 'It's nothing else." The rest is noise.
---
Untitled 538 Kingsland Road, London. untitled-bar.com.
This story was first published in Issue 06 of DRiNK Magazine.